Somalia's Beledweyne airport hit by laptop bomb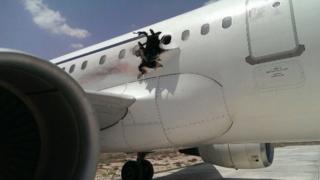 A laptop bomb has wounded six people at a Somali airport checkpoint in Beledweyne, around 325km (200 miles) north of Mogadishu, officials say.
In February, a suicide bomber used a device in a computer to blow a hole in the side of a passenger plane at take-off in the capital, Mogadishu.
Al-Shabab said it carried out that attack but no group has claimed the latest one.
Police said two other devices were defused, including one in a printer.
Two police officers were among the wounded, said Lieutenant Colonel Ali Dhuh Abdi.
African Union troops from Djibouti and Somali government security forces were stationed at the security checkpoint.
The explosion happened at the screening area where cargo and baggage is checked before being put onto planes.
The pilot of the plane targeted in February managed to land it safely.