Nigeria mosque hit by Maiduguri suicide bombers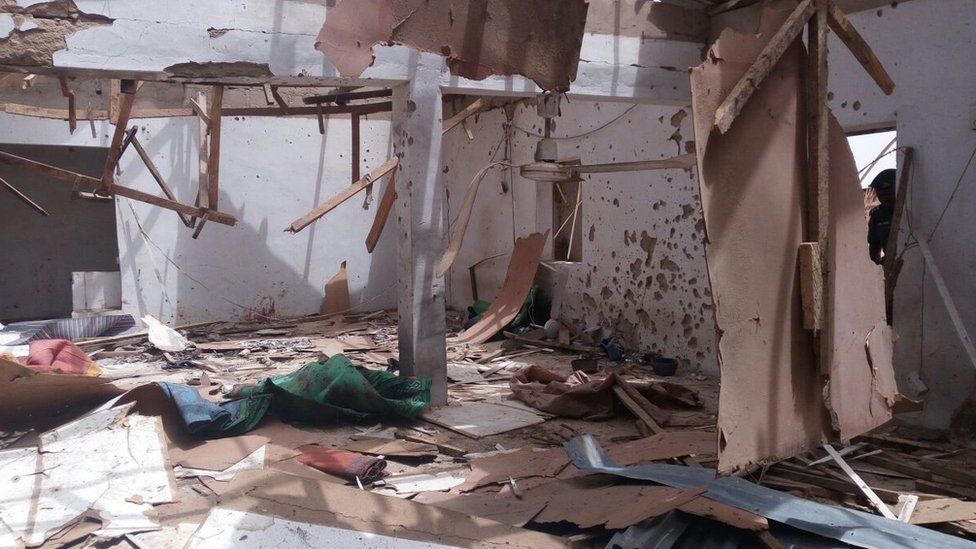 Two female suicide bombers have attacked a mosque in the north-eastern Nigerian city of Maiduguri, killing 22 worshippers, the army says.
The first bomber struck inside the mosque, while the second blew herself up outside as survivors tried to flee, eye witnesses told the BBC.
Eighteen other people were wounded in the attack, the army added.
Maiduguri is the birthplace of Islamist group Boko Haram's insurgency which has killed 20,000 people since 2009.
"We were just a few metres away from the mosque when a loud bang erupted and all we could see was dark smoke and bodies littered around,'' another witness told Associated Press news agency.
Analysis: Martin Patience, BBC Nigeria correspondent
Nigerian President Muhammadu Buhari told the BBC last December that Nigeria had "technically won the war" against Boko Haram.
He said that the militant group could no longer mount "conventional attacks" against security forces or population centres.
That may be true but it does not mean the conflict is over - far from it.
The Nigerian army may have recaptured towns and villages that were controlled by the Islamist militants but Boko Haram still has bases and responded by switching tactics.
It now uses improvised explosive devices to attack the military and increasingly deploys children and women as suicide bombers to hit soft targets such as mosques.
The group is also staging cross-border attacks in neighbouring countries. Belatedly, there is now the realisation that the group is a regional threat.
But as we've seen in Iraq and Afghanistan, militants groups with dedicated followers can sustain their violent campaigns for many years.
And as this latest attack in Maiduguri shows, the bombers are extremely difficult to stop.
The attack took place shortly after worshippers started their early morning prayers, the chief imam of Umarari mosque on the outskirts of the city told the BBC Hausa service.
"My hearing was affected by the blast. I can't hear well at the moment," he added.
A statement from Nigeria's army says all the wounded have been taken to a hospital in a nearby town.
Last year, a regional military offensive helped drive out Boko Haram from most of the areas it had seized in north-eastern Nigeria.
However, the group, which is linked to the so-called Islamic State, has continued to carry out suicide attacks in northern Nigeria and neighbouring Cameroon.
Founded in 2002, initially focused on opposing Western-style education - Boko Haram means "Western education is forbidden" in the Hausa language
Launched military operations in 2009
Thousands killed, mostly in north-eastern Nigeria, hundreds abducted, including at least 200 schoolgirls
Joined so-called Islamic State, now calls itself IS's "West African province"
Seized large area in north-east, where it declared caliphate
Regional force has retaken most territory last year