'Anonymous' hackers cyber-attack Angolan government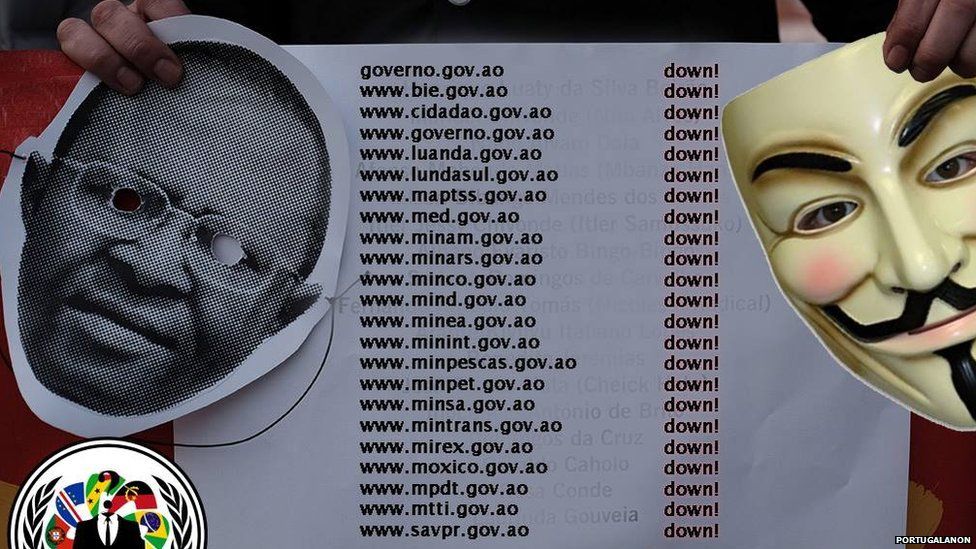 The hacking collective Anonymous says it has shut down more than 20 Angolan government websites in response to the jailing of 17 youth activists.
Many of the sites were still down 20 hours after the Portuguese branch of the group claimed the cyber-attack in a post on its Facebook page.
Prominent rapper Luaty Beirao and 16 others were convicted on Monday of planning a rebellion against Angolan President Jose Eduardo dos Santos.
Mr Dos Santos has ruled since 1979.
The activists say they are peaceful campaigners and have called on the veteran leader to step down.
They received jail sentences of between two and eight years.
They were arrested in June after discussing a book about non-violent resistance at their book club.
Beirao, also known by his stage name Ikonoklasta, has been an outspoken critic of the government, calling for a fairer distribution of the former Portuguese colony's oil wealth.
Critics accuse Mr dos Santos of being authoritarian and his government of committing human rights abuses.
The southern African state is rich in diamonds, which fuelled a 27-year civil war in the country.