South Sudan rebel leader Riek Machar delays return to Juba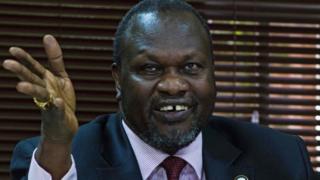 The expected return of South Sudan's rebel leader Riek Machar to the capital, Juba, has been delayed for a second time because of rain.
He had been due on Monday morning, to take up the post of first vice-president, a key part of the peace process aimed at ending more than two years of civil war.
His spokesman said he was initially delayed because of logistical reasons.
Mr Machar fled Juba at the start of the conflict in December 2013.
More than two million people have been displaced and tens of thousands killed in the fighting.
Africa Live: News updates from the continent
Head of the rebel negotiating team Taban Deng told the BBC the initial delay was because a second plane was needed for Mr Machar's army chief, who had been due to travel on Sunday.
Mr Machar's arrival is now scheduled for Tuesday.
Rebel spokesman William Ezekiel told journalists that the rebels were still committed to the peace process agreed last August.
The government has not yet responded to the delay.
The civil war broke out over tensions between President Salva Kiir and Mr Machar, who was sacked as vice-president in July 2013.
Then, in December 2013, Mr Machar was accused of trying to organise a coup. He denied the accusation but it set off a round of tit-for-tat killings, which developed into a full-blown conflict.
The government and the rebels have been slow to implement the peace deal, with reports of ceasefire violations on both sides.
---
South Sudan: The world's youngest country
Split from Sudan in July 2011 after an independence referendum
One of Africa's least-developed economies. Highly oil-dependent
Relations with Sudan strained by disputes over oil revenue sharing and borders
Power struggle led to civil war in December 2013
An estimated 2.2 million fled their homes during conflict
A tentative, internationally mediated, peace agreement signed in August 2015
---