Somalia hotel siege: Three gunmen killed as attack declared over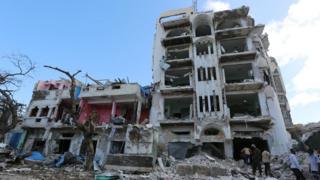 Three attackers who stormed a hotel in the centre of the Somali capital Mogadishu have been killed after an overnight gunfight, officials say.
The car bomb and gun attack at the Ambassador Hotel on Maka al-Mukarama street killed 15 people, according to health officials and eyewitnesses.
Two British Somali MPs were among those killed in the 12-hour attack, which was declared over on Thursday morning.
The Islamist al-Shabab militant group said it was responsible.
The BBC's Somali Service reporter Ibrahim Aden in Mogadishu says the explosion was one of the largest to hit the city and the scale of destruction is huge.
Security Minister Abdirizak Omar Mohamed confirmed more than 10 people were killed by the al-Shabab fighters.
"All the gunmen were killed by the security forces," the AFP news agency quoted him as saying.
The director of Medina hospital, Dr Mohamed Yusuf, told the BBC more than 50 wounded people were brought in for treatment.
Somalia's state news agency Sonna named the dead MPs as Abdullahi Jama Kabaweyne and Mohamud Mohamed Gure.
Thousands of members of the diaspora have returned to Mogadishu in recent years as the city has become relatively more secure.
The African Union Mission in Somalia (Amisom) condemned the "cowardly" attack in a statement.
Al-Shabab, which is battling the UN-backed government, was driven from Mogadishu in 2011 but still remains a threat and frequently carries out attacks in the city.
Earlier this year, the militants have stormed a popular beach restaurant and raided another hotel, leaving more than 50 dead from both attacks.
The government, with the help of Amisom forces, is fighting the al-Qaeda-linked group to regain control of the country.
British support
Separately, UK Foreign Secretary Philip Hammond has met Somali leaders during an unannounced trip to the country.
He said "a secure and stable Somalia" was the UK's top priority in East Africa.
The UK is stepping up its support for Somalia as the country heads towards elections scheduled for August this year, the BBC's Alastair Leithead in Mogadishu says.
Seventy British troops will soon be based at the heavily fortified airport working alongside the UN and Amisom forces and supporting the Somali security services.
On Wednesday, the government announced it had killed Mohamed Kuno, the al-Shabab militant who led the attack on Garissa University in Kenya in April 2015 that killed 148 people.