Nairobi building collapse: Samuel Karanja Kamau charged with manslaughter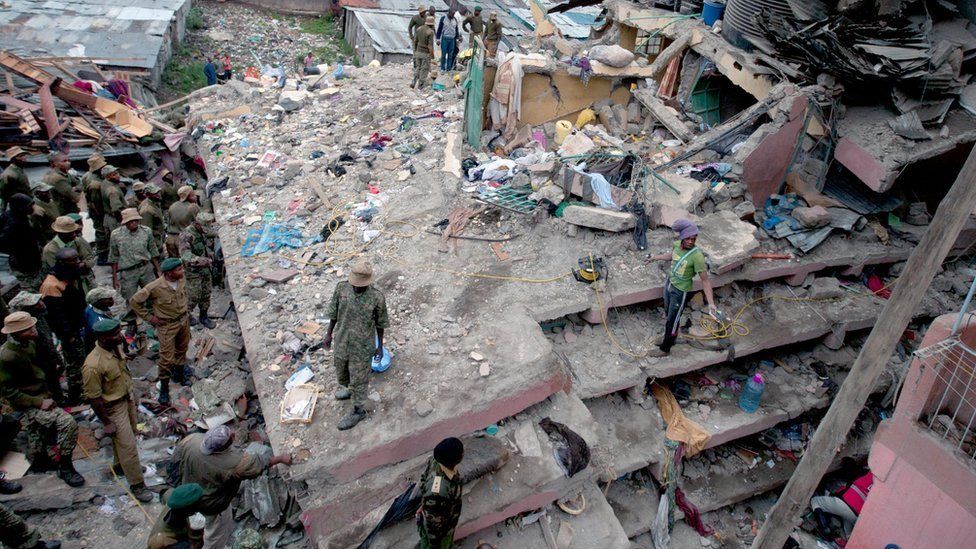 The owner of a building which collapsed in Kenya's capital, Nairobi, in April has been charged with 52 counts of manslaughter.
Samuel Karanja Kamau denied the charges at Nairobi's High Court and is due to appear at a bail hearing on Wednesday.
A total of 52 people died when the six-storey building came down in heavy rain in the city's poor Huruma district.
The government said 100 rooms had been rented out, even though the building had been declared unfit to live in.
Mr Kamau has not yet commented on the allegation.
Three officials from Nairobi City County and the National Construction Authority (NCA) were taken into police custody after the collapse.
However, it is unclear whether they have been charged.
The six-storey building collapsed on 29 April, at the height of Kenya's rainy season.
A local MP said it was built less than 5m (15 feet) from a river, when it should have been at least 30m away.
The NCA said it had marked the building as unfit for habitation, but that the local government had failed to follow up.
Many of Nairobi's four million people live in low-income areas or slums.
Housing is in high demand, and unscrupulous developers often bypass regulations.
2004 Iran earthquake - Woman in her 90s found alive and unscathed eight days after a huge earthquake destroyed the city of Bam
2005 South Asian earthquake - Shameer Shah Jehan, aged five, rescued from collapsed school in Balakot, Pakistan, after three days. Extraordinarily, a 40-year-old woman was saved from what had been her kitchen in Pakistani-administered Kashmir, more than two months after the quake
2010 Haiti earthquake - 24-year-old man pulled alive from the rubble of a ruined hotel in Port-au-Prince after 11 days. Another man was rescued a day later from under a shop
May 2013 Bangladesh building collapse - Woman pulled from the ruins of a factory, 17 days after it collapsed
2015 Nepal earthquake - 15-year-old boy pulled out five days after an earthquake devastated the capital Kathmandu and the surrounding area