South African 'singing firefighters' return after Canada pay row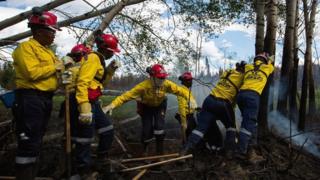 South African firefighters who went to Canada to battle wildfires have returned home because of a pay dispute.
The 301 firefighters were deployed to Alberta province more than two weeks ago to help quell the blaze near the oil city of Fort McMurray.
A video of them breaking into song and dance on their arrival at Edmonton airport went viral on social media.
But they downed hoses when they discovered they were being paid less than their Canadian counterparts.
South Africa's Environment Minister Edna Molewa has asked people not to criticise them, and said the group was no longer needed because of the heavy rains.
"Condemning them for disappointing us can only demoralise them despite their successful track record," she said.
"Upon their arrival at home, we will engage with them to adopt appropriate mechanisms through which they could raise any legitimate concerns in future, should they have any."
A deployment of two 14-day rotations had initially been planned.
Fighting over figures
The dispute began last Wednesday, 10 days after they had arrived in Canada after it was reported in South Africa that they were making about 15 Canadian dollars ($11; £8) an hour - which they said was not the case.
Canada's Globe and Mail confirmed that Alberta's provincial government had agreed to pay 170 Canadian dollars ($132; £94) a day for each firefighter to South Africa's fire-fighting agency, Working on Fire.
This was intended to cover a C$50 allowance, operational expenses and their regular pay, which according to the South African news site GroundUp is about C$7 a day.
But the firefighters, whose board and lodging was being provided by Canadian authorities, complained that they were only getting a C$15 daily stipend.
Working on Fire said they would receive the outstanding allowance on their return home, but this means about C$113 for each firefigher is going on operational expenses a day, GroundUp says.
The agency has apologised to the Canadian government and said in a statement that it was disappointed it was not able to resolve the matter "before it escalated to become an international incident".
"To have a dispute about remuneration, and to be accused of being unfair towards our people, is in direct contradiction of our company values."
The wildfire in Alberta began on 3 May and was nicknamed "the Beast" after destroying more than 2,400 homes and buildings in Fort McMurray.
According to Canada's state broadcaster, CBC News, the fire is now classified as "being held", which means the fire is not yet under control but is no longer expected to grow.