Nigeria football sponsors 'fear lesbians'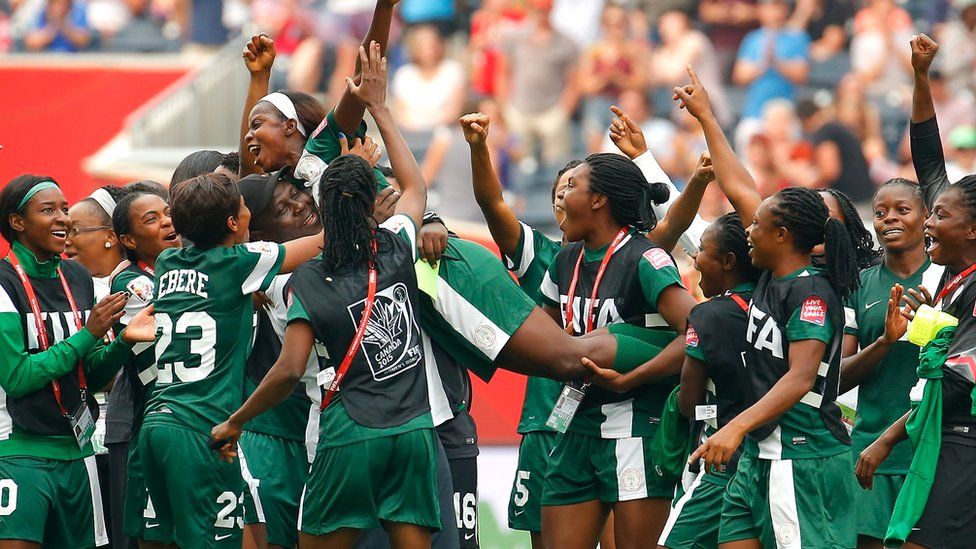 Sponsors shy away from backing female football teams in Nigeria because of "the misconception" that they are "synonymous with lesbianism", a senior Nigerian football official has said.
Seyi Akinwunmi was clarifying his comments after being quoted as blaming lesbians for the national team's recent decline.
The Super Falcons are Africa's most successful national team.
But they did not qualify for this year's Olympic Games in Rio de Janeiro.
Same-sex relationships are banned in Nigeria, which is a deeply conservative country where homosexuals say they often suffer abuse.
Mr Akinwunmi, vice-president of the Nigeria Football Federation (NFF), had been quoted as saying that "lesbianism kills teams".
But the NFF said he was "shocked at the mischievous and uncharitable version of the interview".
"I noted that one of the problems we have encountered in trying to raise funds for the women's game, is the perception of lesbianism therein," he said.
"We strongly believe that there are still potential sponsors out there who will lend their support to help us develop our female teams because of the glory that these girls have brought to this country and their enormous potential to do even more."
It is not the first time the NFF says it has been misquoted on this issue.
Three years ago it denied that an official had said lesbians were banned from playing in Nigeria.
Players for the national women's side receive significantly lower pay and bonuses than their male counterparts.
The Super Falcons have won the women's Africa Nations Cup - formerly known as the African Women's Championship - nine times.
Related Internet Links
The BBC is not responsible for the content of external sites.