African Union troops in Somalia not paid for six months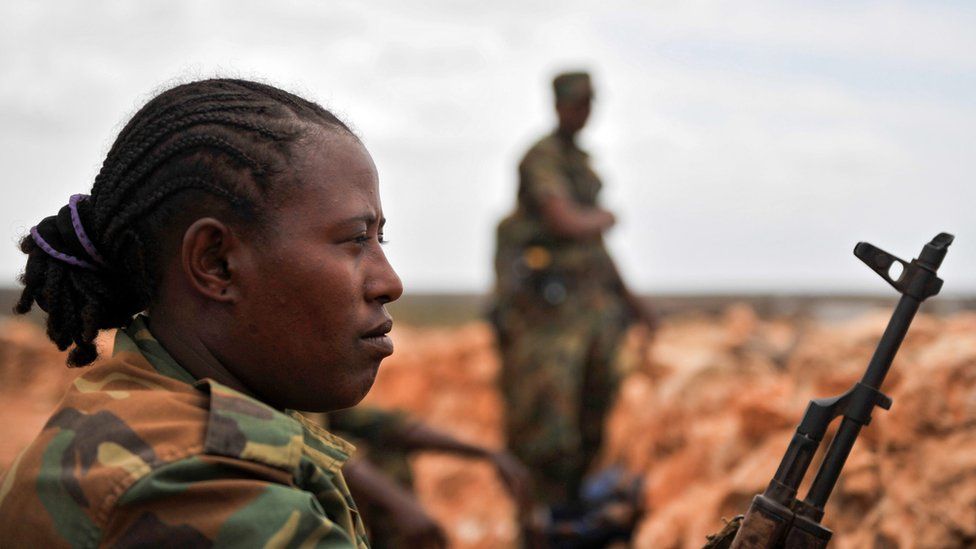 The allowances for African troops fighting al-Qaeda-linked militants in Somalia have not been paid for at least six months, the BBC has learned.
The 22,000-strong African Union force (Amisom) fighting the Islamist militant group al-Shabab is funded by the EU.
An European Union source told the BBC that last six-month payment was being withheld over "accounting issues".
The head of Amisom told the BBC the correct papers to account for the last tranche had now been submitted.
"These papers are on their way; the money is also on its way," Francisco Madeira said.
The EU provides $1,028 (£700) for each Amisom soldier each month; their respective governments then deduct around $200 for administrative costs meaning the soldiers are supposed to take home about $800.
This deployment allowance is much more than the meagre salaries the soldiers receive from their governments.
The funds are only released to Amisom by the EU once the accounts from the previous payment are signed off.
The BBC understands there have been delays over the last two tranches - and last year's June-November payment has only just arrived.
So soldiers are now receiving money owed to them last year but have not received any of it owed to them this year.
Ugandan military chief General Katumba Wamala said he unable to describe the extent of his frustration over the late payments.
Uganda joined Amisom in 2007 and is the force's biggest contributor, with more than 6,000 troops.
Burundian military officials also said their troops had not been paid.
Amisom officials fear that the late payments are having a negative impact have on troop morale.
EU ambassador to Somalia Michele Cervone d'Urso said he was "concerned about the delay" in the stipend which he said was "essential for the motivation of soldiers".
In the past 12 months four Amisom bases manned by Burundian, Ugandan, Kenyan and Ethiopian troops have been attacked by the militants.
According to the Somali president, 180 Kenyan troops being killed in a single incident in January.
Kenya has never confirmed how many soldiers it lost in the attack and African Union does not release full casualty figures.
9 June: Al-Shabab said they killed 60 Ethiopian soldiers in Halgan - Ethiopia denied any soldiers were killed
21 April: Six Ethiopian troops killed in blast in Bay Region
22 February: 15 Ethiopian troops dead in clashes in Lower Shabeelle
15 January: Scores of Kenyan troops killed in an attack on base in El Adde
1 September: More than 20 killed in suicide attack on base in Janale, including at least 12 Ugandan troops
26 June: At least 50 Burundian troops killed in attack on base near Mogadishu
20 October: 70 Amisom and Somali troops killed in clashes in Mogadishu.
Related Internet Links
The BBC is not responsible for the content of external sites.