Kenyan police in court over lawyer Willie Kimani's death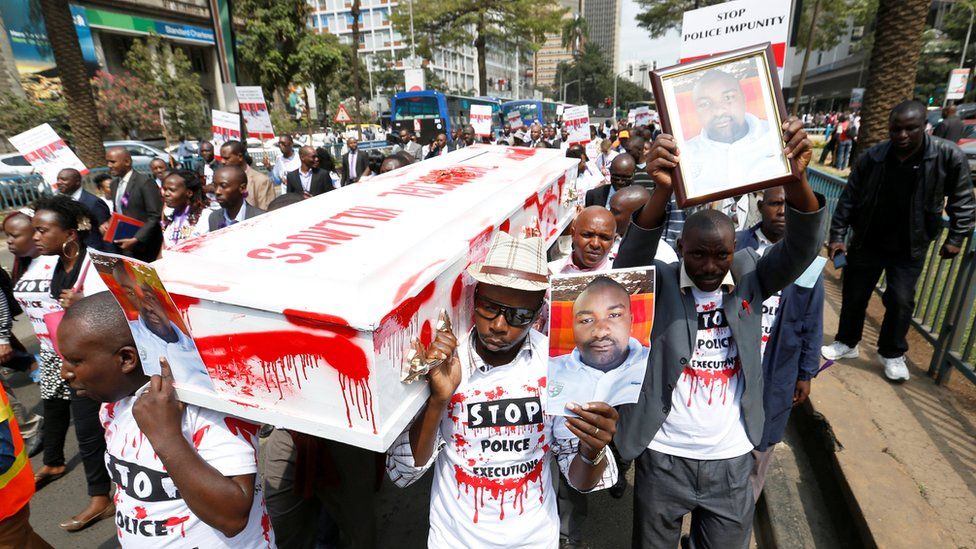 Three Kenyan police officers have appeared in court over the murder of a human rights lawyer, whose body was found on Friday after he went missing.
Willie Kimani disappeared after lodging a complaint against a police officer on behalf of a client, who was also killed, along with their driver.
The Law Society of Kenya has called on all lawyers to boycott courts this week, while nationwide protests have been organised.
The three officers have not commented.
A judge ordered that they be held in custody for two weeks while investigations are carried out. They were not charged as we initially reported.
All court cases that were due to be heard this week will now be adjourned until lawyers return to work after the boycott, reports the BBC's Ferdinand Omondi in Nairobi.
The killings have sparked outrage in Kenya and many have blamed the police force for a series of extrajudicial killings in recent years.
The hashtag #StopExtrajudicialKillings gained popularity on social media as people gathered to take part in protests around the country.
A joint statement by 34 Kenyan and international human rights organisations condemned the killings, reports the AFP news agency.
"These extrajudicial killings are a chilling reminder that the hard-won right to seek justice for human rights violations is under renewed attack," said Muthoni Wanyeki from Amnesty International.
Government spokesman Eric Kiraithe told the BBC's Newsday programme there were no "death squads" within the police force and that allegations of officers committing crimes would be fully investigated.
High-profile extrajudicial killings in Kenya:
Related Internet Links
The BBC is not responsible for the content of external sites.