Willie Kimani: Kenyan lawyer tortured before death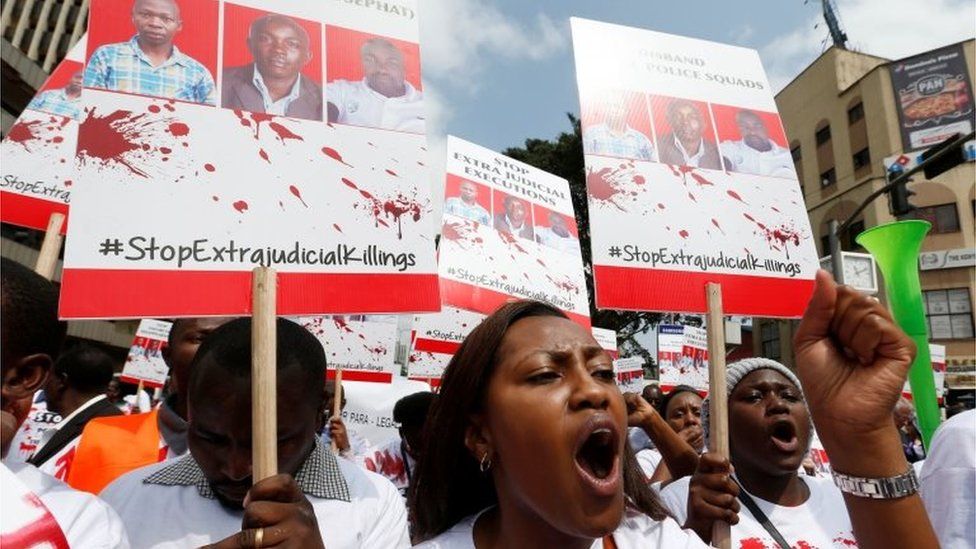 Kenyan lawyer Willie Kimani was tortured before being killed and his body dumped in a river, a pathologist has said in court.
Mr Kimani, his client and their driver were abducted last month after filing a complaint against the police. Their bodies were found a week later.
Four police officers have been arrested - they have not commented.
There have been nationwide protests, with complaints that extrajudicial killings are widespread.
Pathologist Andrew Gachie said Mr Kimani had 14 injuries to various parts of his body.
His skull and genitals had been crushed and he died from blunt force trauma to his head, the pathologist's report said.
Mr Kimani's client Josephat Mwendwa died from head, neck and chest injuries.
Their driver Joseph Muiruri had had a rope tied round his neck and died from strangulation.
Mr Mwendwa had filed a complaint saying he had been wrongfully shot by police.
The Law Society of Kenya is calling for the resignation of the police chief and the internal security minister.
On Monday, government spokesman Eric Kiraithe told the BBC's Newsday programme there were no "death squads" within the police force and that allegations of officers committing crimes would be fully investigated.
High-profile extrajudicial killings in Kenya:
Related Internet Links
The BBC is not responsible for the content of external sites.