South Sudan: Heavy gunfire following death of soldiers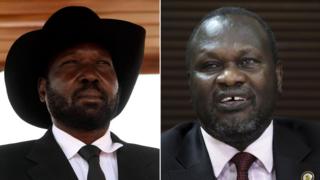 There has been heavy gunfire near the presidential palace in South Sudan's capital Juba, a day after five soldiers were killed.
Soldiers loyal to Vice-President Riek Machar opened fire at a checkpoint manned by troops of President Salva Kiir on Thursday, officials say.
Civil war broke out in South Sudan in 2013 after clashes between soldiers loyal to the two men.
This is the most serious fighting since Mr Machar returned to Juba in April.
Both Mr Kiir and Mr Machar were inside the palace when the gunfire broke out on Friday - they were calling for calm following the soldiers' deaths.
Africa Live: More on this and other news stories
'We want peace - and ice cream'
The unrest comes ahead of South Sudan's fifth independence day on Saturday.
Celebrations have been cancelled in order to save money.