Nigeria Boko Haram crisis: UN aid convoy ambushed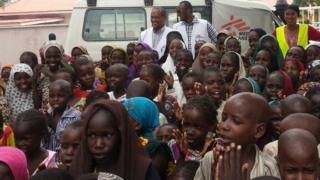 Suspected Islamist Boko Haram militants have ambushed a UN humanitarian aid convoy in north-eastern Nigeria which had a military escort, officials say.
The military said three civilians, including UN staff, and two soldiers were wounded in the attack.
It has prompted the UN to temporarily suspend aid deliveries in Borno state, where more than two million people have been displaced by the insurgency.
The UN says thousands of children are severely malnourished in the region.
Earlier this month the UN's children agency warned that tens of thousands of children would die if treatment did not reach them soon.
Islamist militant group Boko Haram, which has lost most of the territory it controlled 18 months ago, is fighting to overthrow the government.
Its seven-year insurgency has left 20,000 people dead, mainly in the country's north-east.
The wounded are in a stable condition and are being treated in hospital in the state capital Maiduguri, according to a statement from the military.
"The convoy was travelling from Bama to Maiduguri in Borno State... returning from delivering desperately needed assistance" at the time of the ambush, Unicef said.
"This was not only an attack on humanitarian workers. It is an attack on the people who most need the assistance and aid that these workers were bringing," it added.
---
How bad is the humanitarian crisis?
Almost 250,000 children affected by severe malnutrition in Borno state
UN says one in five of those at risk of dying if they do not receive help
More than two million people displaced by the insurgency
Three million in need of urgent food assistance across north-eastern states of Borno, Adamawa and Yobe
---
How strong are the militants? Analysis by BBC Monitoring's Africa security correspondent Tomi Oladipo
Boko Haram never really went away, contrary to the Nigerian government saying that the group had been defeated "technically" or even "decisively".
The group has definitely been weakened in the joint military offensive by Nigeria and its neighbours, losing swathes of territory in Nigeria's north-east.
But attacks against civilians and security forces have seen a resurgence in recent months. Since June, the attacks have even been promoted by media outlets of the so-called Islamic State, to which Boko Haram's leaders have sworn allegiance.
It does not help that Nigeria is now fighting a separate conflict against oil militants in the southern Niger Delta region.
---
Boko Haram at a glance:
Founded in 2002, initially focused on opposing Western-style education - Boko Haram means "Western education is forbidden" in the Hausa language
Launched military operations in 2009
Thousands killed, mostly in north-eastern Nigeria, hundreds abducted, including at least 200 schoolgirls
Joined so-called Islamic State, now calls itself IS's "West African province"
Seized large area in north-east, where it declared caliphate
Regional force has retaken most territory last year
Town divided by Boko Haram legacy
---