Nigeria Shia killings: Army should be prosecuted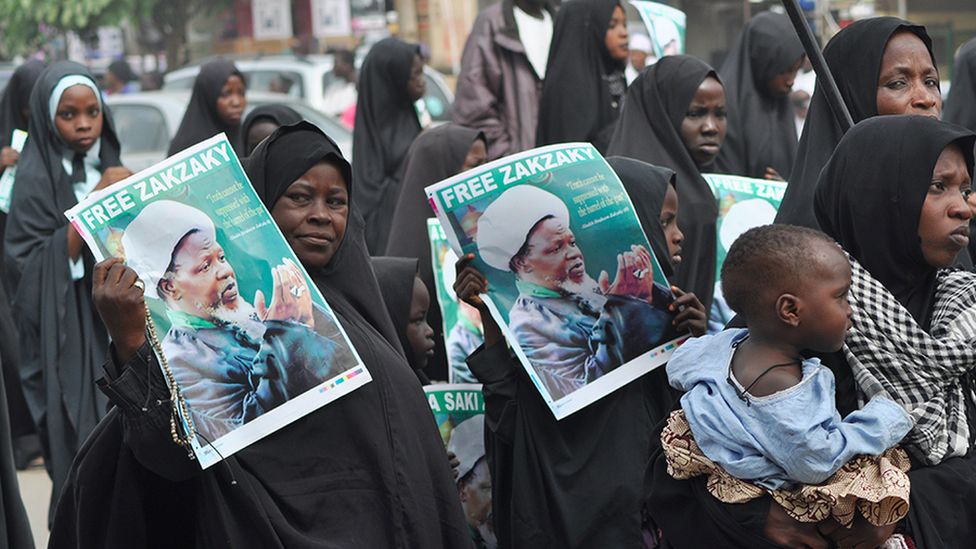 A judicial inquiry has concluded that Nigerian troops should be prosecuted for the killing of 349 Shia Muslims in the northern city of Zaria last year.
The report corroborates findings by human rights organisations on the use of "excessive force" by the army.
A Nigerian army spokesman said the report was being studied.
The military previously blamed the unrest on the Shia sect, which it accused of trying to assassinate army chief Gen Tukur Buratai.
The Islamic Movement of Nigeria (IMN) denies those allegations.
The commission has recommended steps to identify and arrest the soldiers.
The IMN boycotted the commission of inquiry because it said it was denied access to Sheikh Ibraheem Zakzaky, its leader who is still being held by police.
The commission also blamed the Shia leader for failing to control his followers.
Analysis: Martin Patience, BBC News, Lagos
But this official inquiry does not pull any punches. The inquiry states the army used "excessive force" killing hundreds of members of a Shia organisation.
One military source told me the "army intended to teach the Shia a lesson" after members of the Islamic Movement of Nigeria stopped the convoy of the army's chief of staff in Zaria last December.
The big question is how the government will now respond to the inquiry's findings.
Will President Muhammadu Buhari, a former military ruler, seek to root out human rights violations in the army? Or will he do nothing, allowing a culture of impunity to reign?
The inquiry's findings will also raise uncomfortable questions for the US and British armies who provide training and assistance to the Nigerian military in their fight against Boko Haram.
The report said 349 people, including one soldier, were killed in the clashes and property worth thousands of dollars destroyed.
"Out of the said 349 dead persons, 347 (excluding the soldier) were buried in a mass grave," said the report.
The commission said it had received 3,578 memoranda - 132 letters and 3,446 emails - along with 39 exhibits and 87 witnesses testimonies in the course of the inquiry and the writing of the 193-page report, according to Reuters news agency.
Nigeria's Islamic spiritual leader, the Sultan of Sokoto, has warned that the raids on the sect could spark a new insurgency.
Militant Sunni Islamist group Boko Haram has killed thousands of people in its pursuit of an Islamic state, and has previously attacked the IMN.
The IMN said the military had destroyed its religious shrine and the home of Sheikh Zakzaky during the raid.
Those killed during the incident include the group's deputy leader and its spokesman.
Last year, three sons of Sheikh Zakzaky were killed in clashes between the army and pilgrims in a religious procession.
Shia are minority in Nigeria but their numbers are increasing
The IMN, formed in the 1980s, is the main Shia group led by Sheikh Ibraheem Zakzaky
They operate their own schools and hospitals in some northern states
They have a history of clashes with the security forces
The IMN is backed by Shia-dominated Iran and its members often go there to study
Sunni jihadist group Boko Haram condemns Shias as heretics who should be killed