Several killed as Ethiopia police clash with protesters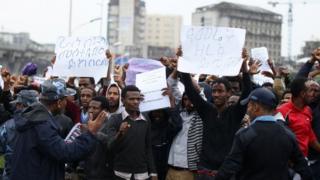 Several people have died in clashes in north-western Ethiopia between police and anti-government protesters, amid a wave of unrest.
On Friday police arrested dozens of demonstrators during massive rallies in the capital, Addis Ababa.
The government has been facing protests from the two largest ethnic communities over alleged human rights abuses and other issues.
Authorities have banned demonstrations and blocked social media.
Despite the ban, people took to the streets in several parts of the country for a third consecutive day on Sunday, the BBC's Emmanuel Igunza reports from Addis Ababa.
The worst violence took place in the north-western city of Bahir Dar in the Amhara region - the homeland of the Amhara people.
Police used tear gas and fired in the air to disperse thousands of people who had blocked roads and chanted anti-government slogans.
Seven people were killed, state-owned television reported. Opposition groups say many more people have been killed in demonstrations across the country. Our correspondent says there are no definitive figures on casualties.
One resident told the BBC he had seen a friend being shot in the head by security forces.
What is behind Amhara trouble?
The Oromo protests and Ethiopian unity
A spokesman for the Amhara regional state said the protesters in Bahir Dar had destroyed property and attempted to hoist an old Ethiopian flag over government offices.
There were also large protests in the Oromia region near Addis Ababa.
Overnight protests continued in the Oromia region, which surrounds Addis Ababa, with police arresting dozens of people.
The unrest was sparked last November by a plan to expand the capital into Oromia. This led to fears farmers from the Oromo ethnic group, the largest in Ethiopia, would be displaced.
The plan was later dropped but protests continued, highlighting issues such as marginalisation and human rights.
Oromo activists say police have killed hundreds of people and arrested thousands from their community in recent months.