Morocco arrests 11 over fish-seller's death in Al-Hoceima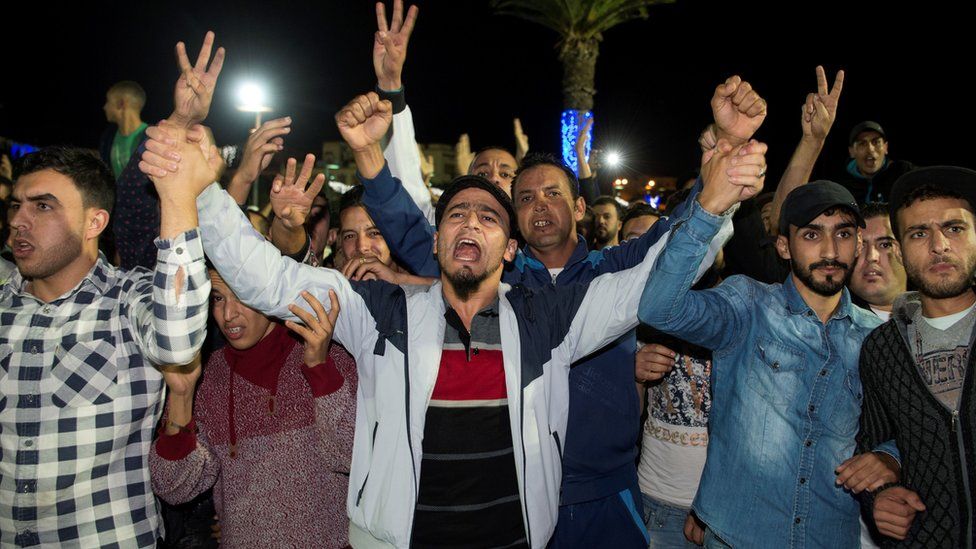 Eleven people have been arrested in Morocco after a fish-seller was crushed to death in a refuse truck prompting days of large-scale protests.
The public prosecutor said they were accused of involuntary manslaughter and forgery of public documents.
Fishmonger Mouhcine Fikri died on Friday after climbing into a rubbish lorry to retrieve 500kg (80 stone) of swordfish confiscated by police.
The size of anti-government protests that followed are rare in Morocco.
Those arrested include five local officials in the northern city of Al-Hoceima, where the incident happened, two of whom are from the ministry of interior. Three people have so far been released on bail.
Police had confiscated and destroyed Mr Fikri's swordfish because it is not allowed to be fished at this time of the year, according to Moroccan media.
Analysis: Rana Jawad, BBC North Africa correspondent
The death of fish-seller Mouhcine Fikri's has triggered outrage on the streets and online as his story resonates with people across Morocco. The reason he died is seen as a symbol of everything that is wrong with the state.
It is still a country with high unemployment and poverty rates and a place where many feel that state authorities often abuse their powers. Northern Morocco has a long history of political dissent and its locals believe they are marginalised more than the rest of the country.
Although protests are not rare in the country, the demonstrations since the weekend are on a wider scale, and are said to be the biggest since people took to the streets back in 2011, during the so-called Arab-spring revolutions in the region.
Back then, the state placated people's anger by introducing political and economic reforms and the royal family gave the government greater powers. With the arrest of 11 people over Mr Fikhri's death, the authorities appear to be sending another strong message, to absorb some of the anger on display.
Video circulating on social media appears to show Mr Fikri jumping into the back of the refuse lorry to retrieve his fish, before being crushed to death by its compactor.
Witnesses said a security officer ordered the truck driver to start the compactor with Mr Fikri inside.
The phrase "crush the hell out of him" began trending on social media, but prosecutors said that "there was no order to assault the victim".
Activists have also called for a mass protest this Sunday in the capital, Rabat, a day before the UN Climate Change Conference (COP22) is expected to start in the city.
But the father of Mouhcine Fikri has urged protestors to remain calm, saying he was confident the perpetrators would receive "the harshest penalty" and that he did not want his "son to be the cause of sedition in Morocco".
"Moroccan people want... stability. They want reform and stability," he said in the video posted on the Moroccan news website Hespress.