Ivory Coast's Bouake, Daloa and Korogho hit by shooting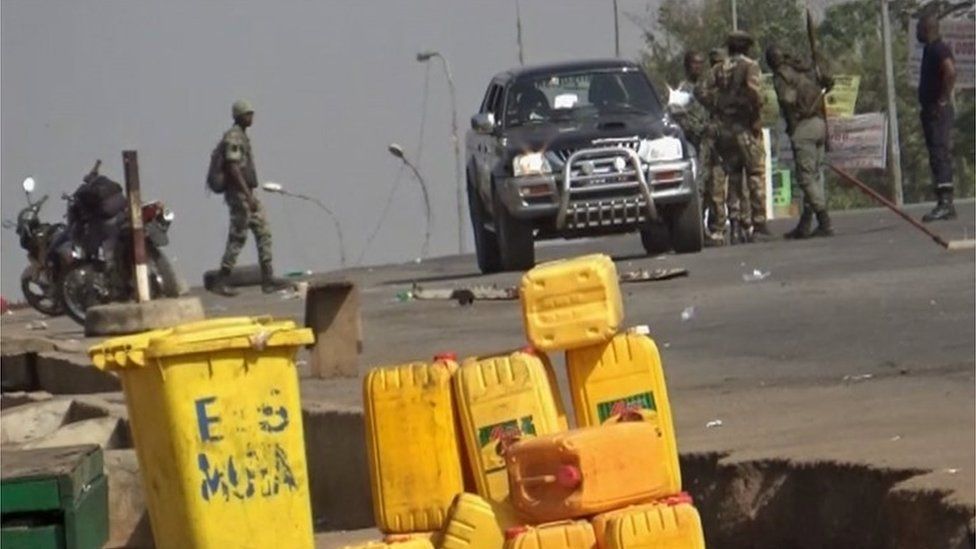 Soldiers are still in control of Ivory Coast's second city after mutinying over pay.
The soldiers seized control of Bouake in the early hours of Friday, before protests spread to Daloa, Daoukro, Odienne and Korhogo.
A local MP says they are asking for $8,000 (£6,500) and a house each.
As night fell, the soldiers had left the streets of every town apart from Bouake, according to news agency Agence France Presse (AFP).
The government has appealed for calm, while President Alassane Ouattara convened a crisis meeting of his military chiefs.
Defence Minister Alain-Richard Donwah called on troops to return to barracks so that "lasting solutions" could be found, state media reported.
The mutineers are understood to mainly be former rebels who integrated into the army following the end of the war.
The rebels swept into the main city Abidjan from their stronghold of Bouake in 2011, helping Mr Ouattara take power after his predecessor Laurent Gbagbo - now on trial at the International Criminal Court on charges of war crimes - refused to accept defeat in elections the previous year.
Earlier on Friday soldiers armed with AK-47 assault rifles fired at the offices of the state broadcaster in the city, and had seized control of Bouake's western entrance, a resident told the BBC.
An MP for Bouake, Bema Fofana, told the BBC that the soldiers did not appear to have a leader or spokesman, making it difficult to negotiate with them.
A teacher in Bouake, Ami Soro, said the city was deserted, Reuters news agency reports.
"Men in balaclavas are patrolling the city on motorcycles or in cars. They aren't attacking residents... They told us to stay at home," she is quoted as saying.
Analysis: Alex Duval Smith, BBC News, Abidjan
The barracks in Bouake are known to be restive. They were the starting point of a pay revolt in 2014.
The government had failed to meet the promises it made to end that revolt, triggering the current crisis, a rank-and-file soldier told the BBC.
The mutiny has spread from the second city to Ivory Coast's third and fourth-biggest cities, Daloa and Korhogo, and there are also reports of some gunfire from the western town of Man.
But it looks like a genuine pay dispute, rather than a serious threat to the government's power.
The soldiers are generally seen as loyal to former rebel leader Guillaume Soro, who played a key role in ousting ex-President Laurent Gbagbo.
Mr Soro is currently the speaker of the National Assembly and wants to retain the post following legislative elections last year.