Tristan Voorspuy killing: Suspect arrested in Kenya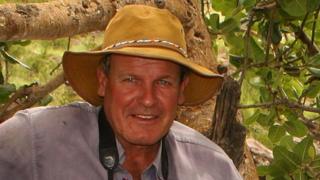 A suspect in the murder of British rancher Tristan Voorspuy in the Laikipia region of northern Kenya has been remanded in custody.
Samson Lokayi, 40, was arrested on Sunday.
He will remain in custody until 28 March while more investigations are carried out.
Mr Voorspuy, a founder of luxury safari company Offbeat Safaris and a former British army officer, was killed on 5 March while inspecting his lodges.
Police told AFP news agency that they wanted more time for their investigation because they believed two other people were also involved in the killing.
Traditional pastoral herders were suspected of being behind the killing.
They have invaded private ranches in the area to seize pasture amid an ongoing drought.
Mr Voorspuy's body was left at the scene for more than 24 hours owing to the volatile security situation.
Kenya's government has dispatched police units to the region to improve order.
Mr Lokayi's arrest came days after Mathew Lempurkel - the MP for Laikipia North, the constituency where Mr Voorspuy was killed - was charged with incitement, according to local news reports.