'Al Shabab' militants in day-long battle with Kenyan forces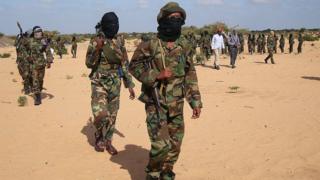 Kenyan security forces have been battling suspected al-Shabab militants for more than 10 hours after they staged a dawn attack on a police post near the coastal town of Lamu.
The latest fighting is reported to be in Boni forest, which straddles the border with Somalia.
Three police officers are confirmed dead and one seriously injured, according to a statement released by the Kenyan police.
Al-Shabab has claimed responsibility.
The Daily Nation newspaper reports that some 200 attackers were involved in the fighting.
It quotes a local official as saying that an unknown number of villagers are also missing.
A local communication mast has been destroyed, making it hard to get accurate information from the area.
Al-Shabab has attacked Kenya several times in recent years.