Bell Pottinger row: PR boss sorry for S Africa campaign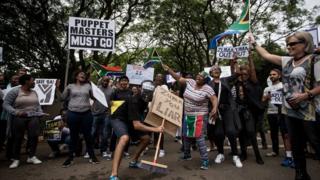 A UK public relations firm has apologised over a controversial social media campaign in South Africa that critics say inflamed racial tensions.
Bell Pottinger is accused of using a strategy that stressed the power of white-owned businesses and promoted the #WhiteMonopolyCapital hashtag.
The company has sacked one employee and suspended three, admitting the campaign was "offensive".
Critics say it worked to the advantage of President Jacob Zuma.
Bell Pottinger was hired by Oakbay, a company owned by the wealthy Guptas family.
The South African president has faced corruption allegations and suspicion over his ties with the Guptas. Mr Zuma and the Guptas have consistently denied all allegations.
The campaign sought to emphasise the continued "existence of economic apartheid", according to leaked emails, published in the local press.
Opposition party Democratic Alliance (DA) is among those to have voiced objection, filing a complaint to the London-based Public Relations and Communications Association.
On Friday, the DA said the apology was a PR stunt in itself.
The governing ANC insists it has played no role in the row.
'White monopoly capital'
Critics in South Africa and media outlets had for some time accused the PR firm of presenting opponents of President Zuma and the Guptas as agents of "white monopoly capital".
In a statement on Thursday, Bell Pottinger Chief Executive James Henderson said: "We wish to issue a full, unequivocal and absolute apology to anyone impacted."
Bell Pottinger said it had ended its contract with Oakbay three months ago.
The PR firm also said it had asked an independent law firm to review "the account and the work done on it", and that executives had been "misled" about the campaign.
Social backlash
There has been an outcry on social media in the country about the original campaign and the statement.
Some South Africans are also angry because Bell Pottinger had an account representing the national tourist board, which is funded by tax-payers.
The tourist board ended the three-year contract in June, with the PR company blaming the way its other work had been "misrepresented" in the local media.
South African Tourism told PR Week that the Gupta connection had no bearing on its decision to switch to another firm.
Last month, Bell Pottinger temporarily changed the settings on its own Twitter account to make it private, meaning critics could no longer hijack its other posts with views on the company's work in South Africa.
South Africa "managed to force a PR company to make their Twitter account private. A PR company", wrote one incredulous tweeter.
On Friday, critics were still on the attack online, doctoring the company's Wikipedia page and accusing it of a "weak, meaningless and pathetic" apology.