KwaZulu-Natal killings could engulf South Africa
By Milton Nkosi
BBC News, Johannesburg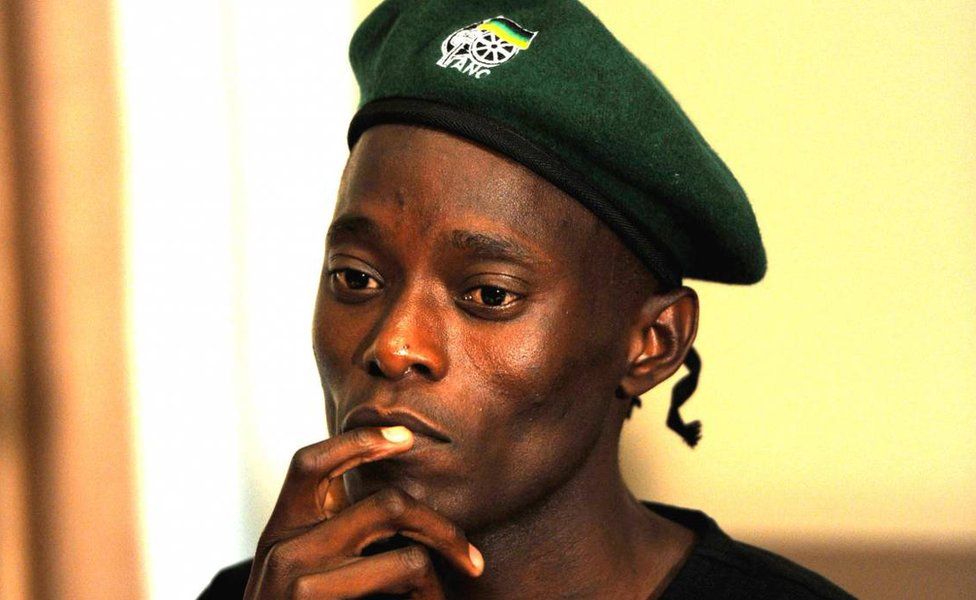 The death of a high-profile ANC figure has revived some dark memories in South Africa's KwaZulu-Natal (KZN) province.
Sindiso Magaqa, who was once secretary-general of the influential ANC Youth League, became the 35th person to be murdered in political violence in the province since the beginning of last year.
He died in September after his car was sprayed with bullets in July.
There are fears that the cancer of violence could eat away at South Africa's democratic culture, spill out of KZN and engulf the entire country.
The province has a troubled past, with thousands dying in political violence in the late 1980s and 1990s, and though this is not on that scale, it cannot be ignored.
The murder of Mr Magaqa, 35, led the news bulletins and dominated the headlines of major newspapers. But many have been killed whose stories got lost in the middle pages, if they were mentioned at all.
The former youth leader had been an ANC ward councillor in the Umzimkhulu region on the south coast. Before his death another ANC ward councillor, Kwazukwakhe Mkhize, was shot and killed by unknown gunmen.
And in turn, Mr Mkhize's murder followed the killing of Ntokozo Maphumulo, also from the ANC, who was attacked by men believed to be dressed in police uniforms.
The story goes on, 32 more times.
Earlier this year Police Minister Fikile Mbalula spoke of more than 30 politically motivated killings in KZN since January 2016.
This increasingly deadly violence is not the result of rivalry between different political parties. It is largely confined within the ANC.
In other words, this is brother killing brother for political reasons and over corruption allegations, where people are accused of looting resources through awarding questionable contracts.
Council jobs with control over budgets have suddenly become very lucrative positions to occupy.
The opposition Democratic Alliance (DA) in KZN was reported in local media as having said there is evidence that the attack on Mr Magaqa was a political hit as he "was questioning maladministration in his area".
The government has set up a commission of inquiry led by a senior advocate, Marumo Moerane, to investigate the killings.
DA provincial leader Zwakele Mncwango said he hoped the commission would "give a framework on possible interventions that may be used to end this bloodshed".
Last week the ANC said it had established its own internal investigation, an unintended admission that the violence is within its own party faithful.
But it also suggested that a clandestine group - or third force - aimed at destabilising politics in KZN may be involved.
KZN was home to some of the most gruesome political violence in the late 1980s to early 90s in the run-up to democratic rule and the end of white minority rule in 1994.
Some 20,000 people were believed to have been killed when the Inkatha Freedom Party (IFP) and the ANC were involved in a low-intensity civil war.
It later emerged that die-hard apartheid forces within the state, the so-called third force, were involved in orchestrating what became known as black-on-black violence to discredit the democratic revolution.
This latest pattern of drive-by shootings and assassinations is beginning to worry Deputy President Cyril Ramaphosa, who is hoping to succeed President Jacob Zuma as ANC leader later this year.
A visibly frustrated Mr Ramaphosa told an audience of ANC members that "the killings that are happening in our movement must come to an end".
Last week a video of gun-toting ANC bodyguards was widely shared on social media. It showed two men in dark suits brandishing and cocking an AK-47 assault rifle as well as 9mm pistols.
One of the men can be heard speaking Zulu, the main language of KZN, saying: "A dog is going to die today."
The ANC said the pair have since been sacked. It was not clear when the video was taken but some said it was filmed in January.
One of the ANC's most outspoken MPs, Makhosi Khoza, has said that she fears for her life.
But she is not scared of her traditional political opponents, rather she is terrified of her own comrades within the ANC.
These killings, although not necessarily linked to the current divisions in the ANC at national level between supporters of Mr Ramaphosa and President Zuma, illustrate the extent to which corruption is eating away at the 105-year-old liberation movement.
Irish poet WB Yeats could have easily been describing the rolling hills of KZN in his famous poem The Second Coming:
Things fall apart; the centre cannot hold;
Mere anarchy is loosed upon the world,
The blood-dimmed tide is loosed, and everywhere
The ceremony of innocence is drowned;
The best lack all conviction, while the worst
Are full of passionate intensity.
The obvious problem here is that the national leadership seems to have outsourced the responsibility of dealing with this violence to the provincial level and no-one is really giving it serious attention, beyond paying lip-service.
Even though the police have announced some arrests, we are a long way away from convictions.
I covered the mass killings of the early 1990s, but I have no doubt that the current violence could become even worse, if the bloodletting spreads beyond KZN.
This time around there is a leadership vacuum. There is no sign of a pacifist like Nelson Mandela who will pull South Africa from the brink.