What is behind clashes in Ethiopia's Oromia and Somali regions?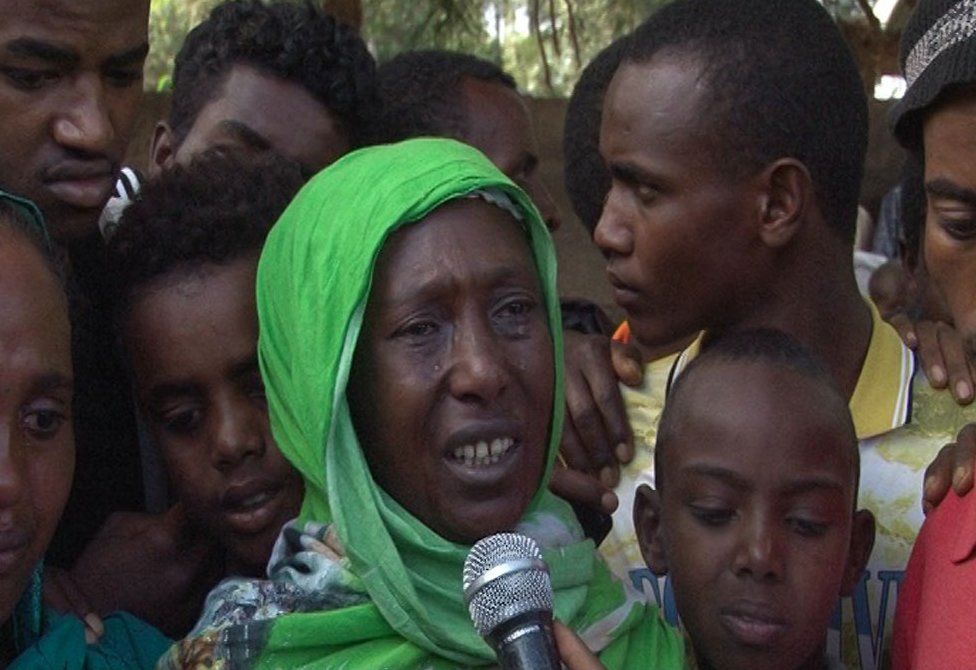 Thousands of people have fled Ethiopia's Somali region following deadly clashes in recent days between ethnic Somalis and Oromos. The BBC's Kalkidan Yibeltal looks at the cause of the conflict and whether it can be stopped.
Dozens of people are reported to have died in clashes across Ethiopia's Oromia and Somali regions in recent days.
According to Adisu Arega, Oromia government's spokesperson, 18 people have been killed.
Twelve of those victims are ethnic Somalis, Mr Adisu told the BBC.
The figures are however disputed by the Somali regional government, which says that more than 30 ethnic Somalis have been killed in the Oromia town of Awaday.
Mr Adisu said the clashes had displaced at least 55,000 people, some of whom have taken refuge in makeshift camps at a stadium in the eastern city of Harar, whilst others are camping at police stations.
Local administrators have now asked aid agencies operating in the area to provide humanitarian assistance.
How serious is the trouble?
Following intense anti-government protests that plagued the Horn of Africa country during most of 2016, the government imposed a 10-month state of emergency, which was lifted in July.
While this heightened state of alert calmed most of the restive areas in the Oromia region, it did not stop cross-border clashes in the Oromia and Somali areas.
In February and March, hundreds were reported to have been killed in the southern Oromia district of Negele Borena after an incursion by a paramilitary force called the Liyu Police, which is backed by the Somali region.
Ethnic Oromos allege that the Liyu Police, which has previously been accused by rights groups of human rights violations, of being behind the current attacks.
The Somali regional government has however rejected the allegations and charged that senior officials in the Oromia government were sympathisers of the Oromo Liberation Front, which is categorised as a terrorist organisation by the Ethiopian government.
While conflicts have been common between the two bordering communities, the public finger-pointing by top regional officials is unprecedented and could exacerbate the current conflict.
"We don't believe this is expected from a responsible senior government official," Communication Minister Negeri Lencho told the BBC.
Ethiopia's political arrangement - federalism structured along ethno-linguistic lines - dictates that ethnic borders are also usually political ones.
Critics argue that this structure is a tinder box that allows minor conflicts to escalate.
What is behind the conflict?
Oromia and Somali are, respectively, the two largest regions in the country by area size, sharing a border of more than 1,400 km (870 miles).
While Somalis are mostly pastoralists, living from their animals, Oromos tend to be farmers, as well as pastoralists.
Both communities inhabit the areas around the regional border.
Historically, their relationship has been characterised by territorial competition which often leads to disputes and conflicts over resources, including wells and grazing land.
These conflicts can cause the displacement of tens of thousands of people.
In 2004, a referendum to decide on the fate of more than 420 kebeles - the country's smallest administrative unit - gave 80% of them to Oromia.
Following the outcome, tens of thousands of ethnic Somalis reportedly fled the areas for fear of repercussions.
The decision has still not been implemented and this is one factor behind the current conflict.
Will the clashes spread further?
Since the two communities are largely pastoralist and cross borders in search for pasture for their animals, it is difficult to clearly demarcate their boundaries.
Additionally, clashes that occur between the two communities can easily spread to neighbouring regions and countries because of shared ethnic ties.
People are reportedly trying to escape the violence by fleeing to the Kenyan side of the southern border town of Moyale, which also has a history of Oromo-Somali conflict.
Prime Minister Hailemariam Desalegn has ordered that regional security forces be withdrawn from the border areas, with federal police patrolling the main roads instead.
He also urged local community leaders to support the government's peace efforts.
But it is not clear whether this will be enough to prevent the conflict from spreading.