Dutch tourists attacked in South Africa return home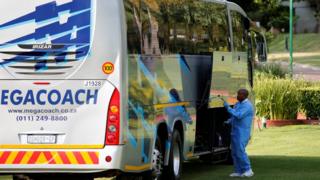 A group of elderly Dutch tourists, who were robbed in South Africa on Sunday by men posing as police, have returned home to the Netherlands.
The 36 tourists were attacked while travelling to their hotel from Johannesburg airport, where they had just landed for a three-week holiday.
Their bus was stopped by a fake police car, and at least one of the robbers was in police uniform.
Police have apologised for the incident and promised to find the attackers.
The robbers tied up the bus driver and tour guide, assaulted some of the tourists and stole many of their possessions, according to Dutch media.
"Most of the passengers are 70-plus. People panicked and even got firearms aimed at them. In two cases, the trigger was pulled but the gun didn't fire," South African media quoted one tourist as saying.
One tourist was taken to hospital for treatment to injuries.
"We are safe now, but we are in shock and... the fun has gone," one of the passengers is reported to have said.
The Dutch ambassador to South Africa, Marisa Gerards, said the group had decided to return to the Netherlands because most of them had had all of their belongings taken.
She said it had been "out of safety concerns" that the group had arranged the organised tour, rather than travel independently.
---
Analysis - By Pumza Fihlani in Johannesburg
South Africa is one of the world's most popular tourist destinations because of its beauty, affordability and variety.
But it also has one of the highest crime levels in the world - a concern not just for visitors but for those living here.
Visitors from the region have sometimes fallen prey to muggings in a similar way to the Dutch tourists and, as a result, some African embassies warn their citizens to make sure they are not being followed when leaving the airport.
The authorities are worried that the latest mugging may damage South Africa's image. Tourism is a critical sector and sustains many jobs. Tourism Minister Tokozile Xasa said all South Africans should be concerned by threats to the industry.
---
South Africa's Police Minister, Fikile Mbalula, met the tourists on Tuesday and offered his "heartfelt embarrassment" over their experience.
He said he hoped they would return to South Africa in the future.
"I condemn this robbery in the strongest terms and call for harsh punishment of those responsible," he said.
"Tourism is one of our economic drivers and a provider of jobs for the youth. We must work hard to protect this industry", Mr Mbalula said in a statement.
It is not the first time robbers have targeted OR Tambo airport. In March, armed thieves stole containers of cash from a restricted zone while dressed as police.