Eritrea's Asmara city hit by rare student protest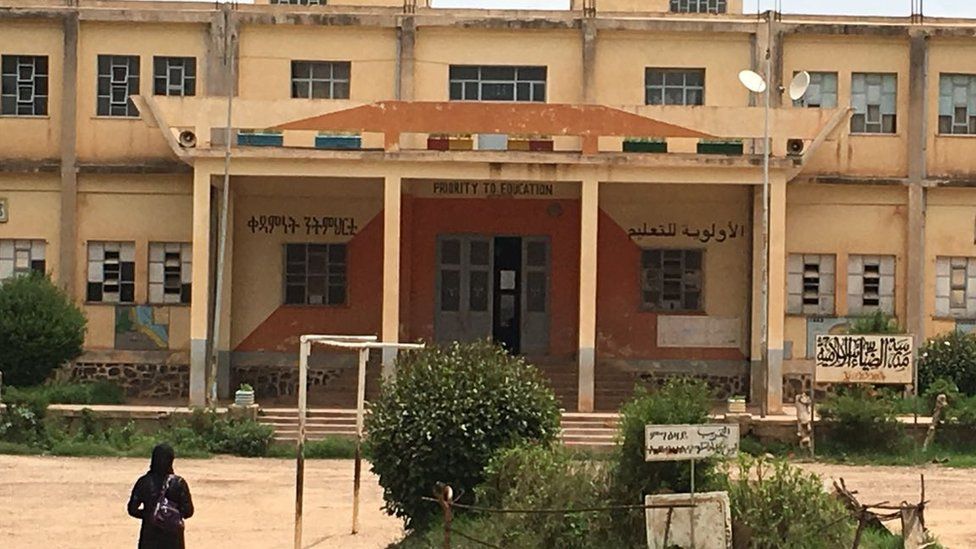 Rare protests broke out in Eritrea's capital, Asmara, with reports of shooting in the city on Tuesday.
Security forces responded by firing shots to disperse protesters, unverified video footage widely circulated on social media shows.
The protests were staged by students who were angered by government interference in the affairs of a community-funded Muslim school.
Information Minister Yemane Meskel downplayed reports of violence.
"Small demonstration by one school in Asmara dispersed without any causality hardly breaking news," he said in a tweet.
However, the US embassy in Asmara said it had received reports of gunfire in "several locations" on Tuesday.
The authorities also appear to have cut the internet in the wake of the unrest, as no messages are being received from people in the country, the BBC Tigrinya service's Tesfalem Araia says.
The protests were staged by students of Diae Al Islam, one of the best private schools in Asmara, following reports that its chairman, 90-year-old Hajj Musa Mohammed Nur, and other members of the school board were arrested after fiercely resisting government efforts to regulate the school.
According to a video circulating on social media that appears to show Mr Musa speaking before his arrest, he said that the authorities had demanded that the school, which offers both secular and Islamic education, drop religious teachings, ban the hijab and stop the separation of sexes.
The military has reportedly rounded-up of young men overnight, especially in the Akhria area of the city, where the school is located.
Anti-government demonstrations in Eritrea are extremely rare because of restrictions imposed by President Isaias Afwerki's government, which has been in power for 26 years.
Eritrea does not have a constitution that guarantees the rights of citizens, including the right to protest.
The UN Human Rights Commission accuses the Eritrean government of committing human rights violations and crimes against humanity.
It strongly denies the allegations, and insists that it treats its citizens well.