Joseph Boakai: Liberia's deputy leader who tried to step up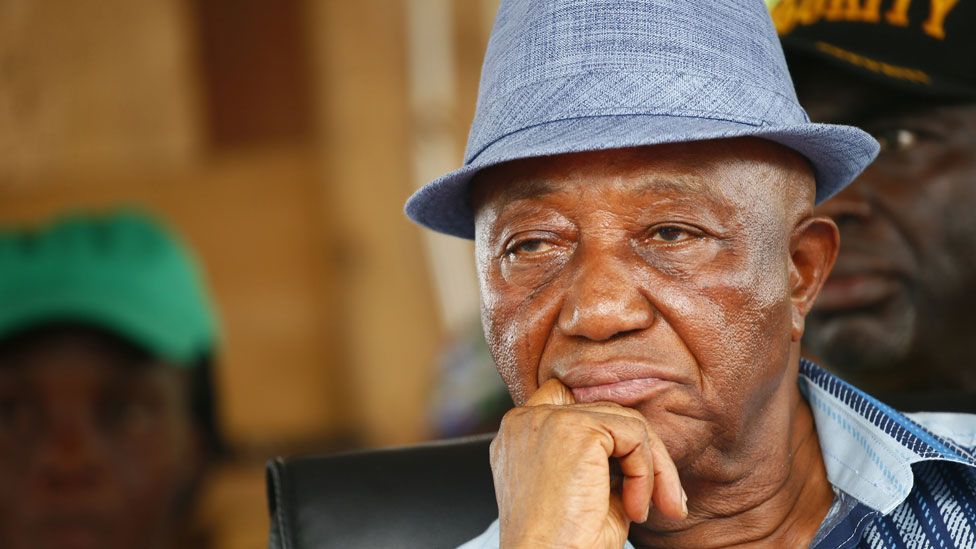 Joseph Boakai's tenure as Liberia's vice-president will be remembered as a period of uninterrupted peace - no small feat in a country torn apart by years of civil war.
Unfortunately for Mr Boakai, he will also be remembered for an apparent tendency to fall asleep during official functions, leading some to call him "Sleepy Joe".
He, of course, vigorously denies this: His face may look sleepy, he says, but he's not actually asleep.
Mr Boakai was hoping to put the latter behind him when he attempted to follow in the footsteps of Ellen Johnson Sirleaf, the president he served loyally for the last 12 years.
But his bid to become president proved unsuccessful. He lost the election to ex-footballer George Weah.
Mr Boakai was born in a remote village in the northern Lofa county in 1944 to illiterate parents.
He would go on to attend school in neighbouring Sierra Leone, before completing a degree in business administration at the University of Liberia.
By the 1980s, he was serving as the country's agriculture minister under President Samuel Doe, who would be mutilated and then murdered in 1990, a decade after he had taken power in a bloody coup of his own.
His oversaw the programme to decentralise agriculture by creating regional agriculture hubs - a major project in Liberia, where many people are subsistence farmers.
But it would be more than 15 years before he returned to the heart of the political fray when, in 2005, he was announced as Mrs Sirleaf's running mate, becoming the country's vice-president for the next 12 years.
On his website, he lists 58 achievements from his time in office - from donating two containers full of tuna fish to Sierra Leone and Guinea, to championing community colleges and reconciling various disputes around Liberia.
The biggest achievement, of course, is the fact it has been an entirely peaceful tenure following almost 15 years of war.
"Wherever I have been in this country, people start saying at least 10 years of peace," he told American website VOA. "Without peace you can achieve nothing."
His critics, however, have other ideas. They say Mr Boakai, known for his fervent Christianity, and his Unity Party has not done enough to pull the country out of poverty.
It has led to attempts by the father-of-four to distance himself from his boss.
Mr Boakai has admitted publicly that as a government they could have done more but some of the opportunities "were squandered".
But his bid to characterise himself as a "a race car in the garage" - suggesting that his talents had been wasted for the last 12 years - has not impressed some.
According to the BBC's Jonathan Paye-Layleh in Monrovia, Mr Boakai was trying to explain the frustrating position vice-presidents are trapped in: Seeing things and wanting to act but having to play second fiddle to the presidents they serve.
But Alexander Cummings, a former Coca-Cola executive who ran for president in the first round, noted - perhaps unkindly - that "if you park a race car in the garage for 12 years and it doesn't move, it becomes obsolete".