Gen Constantino Chiwenga: The army chief who took power from Mugabe
By Farouk Chothia
BBC News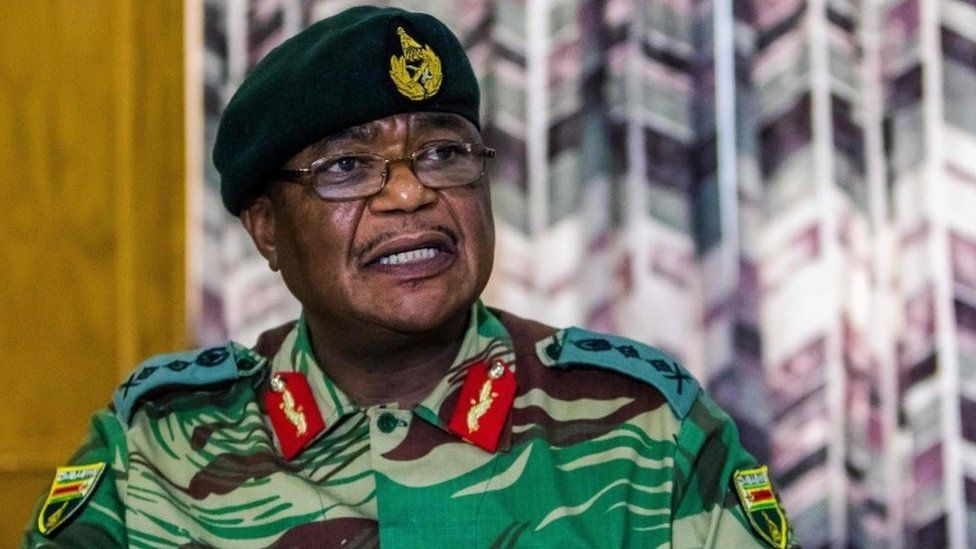 Gen Constantino Chiwenga, 61, is being hailed as a political saviour after he led the military takeover in Zimbabwe, however he is under sanctions from the European Union and the US - for his role in a brutal crackdown on the opposition, and over the seizure of white-owned farms.
Zimbabweans took to the streets on Saturday to demand President Robert Mugabe's resignation, holding aloft placards which declared: "Zimbabwe army - the voice of the people."
Pastor Patrick Mugadza, hounded by the police in January this year for predicting that the 93-year-old leader would die in nine months' time, went as far as to announce that he intended to name his son after the general.
Yet, Gen Chiwenga played a central role in keeping Mr Mugabe in power after he lost elections to his main rival, Morgan Tsvangirai of the Movement for Democratic Change (MDC), in 2008, amid reports that Mr Mugabe was going to accept defeat.
"He told Mugabe: 'We can't lose elections. We can't hand power to the MDC. We are going to obliterate them," UK-based Africa confidential magazine editor Patrick Smith told the BBC, adding that he carried out the operation with Emmerson Mnangagwa, the man Gen Chiwenga is trying to install as Mr Mugabe's successor as president.
"They are joined at the hip, with Mnangagwa the senior partner," Mr Smith said.
After a long delay, the official results were announced, saying that Mr Tsvangirai had not gained the 50% required for victory and so a second round was needed. Before the run-off, pro-Zanu-PF militias backed by the security forces attacked opposition supporters around the country, beating, raping and killing.
Mr Tsvangirai pulled out of the second round and Mr Mugabe remained in power.
Gen Chiwenga joined the guerrilla war against white minority rule in the then Rhodesia as a teenager and got military training in Mozambique and Tanzania.
After independence, he received British training, as a new army, made up of ex-guerrillas and soldiers of the former white minority regime, was formed.
Lt-Col Freeth said the incident was forgotten, but when Gen Chiwenga was appointed defence chief in 2003 he invited him to his home.
"He gave me his card and said: 'If you ever need anything...' We both knew what he was referring to."
Lt-Col Freeth was quoted as saying: "I knew him very well. I probably did too good a job."
A Zimbabwean lawyer, who has met Gen Chiwenga on several occasions, offered a different perspective of the army chief.
"He is fearless, and as tough as nails," the lawyer, who asked not to be identified, told the BBC.
"In terms of his political outlook, he is a Pan-Africanist at heart. He abhors the notion that Western values are superior. He believes in equal recognition, and that comes from the heart," the lawyer added.
Now married to Mary Chiwenga - a former model and ex-wife of footballer Shingi Kazwondera - Gen Chiwenga was involved in a messy divorce about five years ago when he ended his marriage to his then-wife, Jocelyn.
At the time, the privately owned NewZimbabwe.com news site reported that it had seen court papers in which Gen Chiwenga alleged that his wife used to beat him up, and even thrashed his office at military headquarters.
She hit back, alleging that she was, in fact, the victim, and their marriage ran into trouble because he was having an affair with his current wife.
Gen Chiwenga's messy divorce enhanced, rather than damaged, his reputation among his troops.
As one soldier told the BBC: "The general is a very patient man. Look at how his relationship with Jocelyn was, but he waited for the right time to call it off."
His second wife obtained a degree from a university where Mr Mugabe is the chancellor just two days after the general took power.
Mr Mugabe conferred degrees on more than 3,000 students, in his first public appearance since being put under house arrest. However, Mrs Chiwenga failed to attend.
The veteran leader's appearance in public was intended to show that the general was treating him kindly.
Said the soldier: "Gen Chiwenga is a man of the people, a hard-working person who stands for the truth. He is an achiever.... No matter what is happening, the president will never win."
The army chief put Mr Mugabe under house arrest after the president had sacked the general's close ally Vice-President Mnangagwa, in a move seen as an attempt to install the Mr Mugabe's wife, Grace, as his successor.
Days earlier, Gen Chiwenga had warned that "the current purging, which is clearly targeting members of the party with a liberation background, must stop forthwith".
Gen Chiwenga then went to China, and Mr Mugabe's allies in the security forces planned to arrest him on his return, Mr Smith said.
But the general got wind of the plot, and a strong contingent of loyalist troops arrived at the airport, to prevent his detention.
Shortly afterwards, the army chief took power, but insisted that he was not staging a coup.
The army said it had intervened to arrest the "criminals" around Mr Mugabe, a reference to the political faction headed by Mrs Mugabe, and to end the economic suffering of Zimbabweans.
His intervention caught Zimbabweans by surprise but, as the lawyer who has observed his career closely, said: "Once you cross a certain path, he does not hesitate to act. However, he respects Mugabe and will want him to go out in the most dignified way possible.
"He is genuinely worried about the economic crisis and sees it as a threat to national security. So, he wants the politicians to start dealing with it, and he did not think the G40 faction [headed by Mrs Mugabe] would," said the lawyer.
Gen Chiwenga flanked Mr Mugabe when he addressed the nation on Sunday night, vowing to remain in office despite the intense pressure on him to leave office.
The army chief helped the president with his papers, as he struggled to read his long speech, and his officers saluted Mr Mugabe, still their commander-in-chief.
"It was theatre intended to show that the military are not bully boys picking on a nonagenarian. They want this to be sorted out as amicably as possible," Africa Confidential's Mr Smith said.
Read more about the Zimbabwe crisis: