Nigeria's #ENDSARS campaign at police brutality video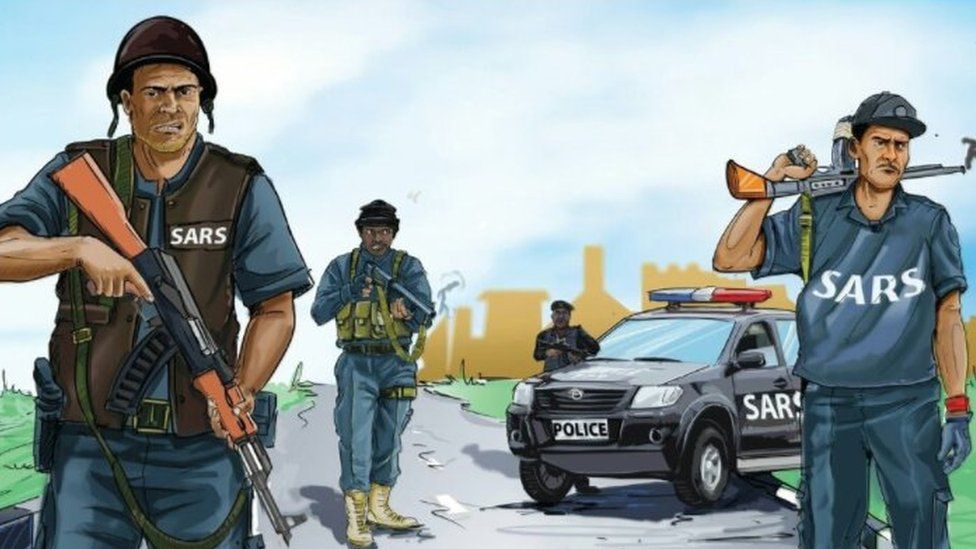 Nigeria's police chief has ordered an immediate re-organisation of the anti-robbery unit after a social media outcry over alleged police brutality.
The campaign began when footage was shared allegedly showing the aftermath of the police killing of a young man.
Many Nigerians responded with their own accounts of their ordeals at the hands of officers from the Anti-Robbery Squad SARS, using the hash tag #ENDSARS.
Nigeria's police has long been accused of human rights abuses and corruption.
On Sunday, a video was posted on Twitter showing an angry mob chasing after a black van, allegedly containing SARS officers fleeing the scene after killing a man.
An online petition was launched calling for SARS to be disbanded, while some shared graphic videos of alleged police brutality.
"The SARS here in Port Harcourt go about with cutlasses and axe, red ribbons and bandana around their arm or head. Sick something" @tickin_clocks tweeted.
"I was stopped at Iwo road by SARS, my bags and phones were searched and found nothing. Took all the chocolate I bought for my sis" @Dabidamioraye
Skip twitter post 3 by Ugegbe Eze
A SARS officer once wanted to rape me under gun point. How i escaped that day is still a mystery to me.
I support #EndSARS

— Ugegbe Eze (@MischievousNG) December 4, 2017
The BBC is not responsible for the content of external sites.
End of twitter post 3 by Ugegbe Eze
Initially, the Nigerian Police Force tried to downplay the issue by tweeting: "If u've contact with SARS personnel and u've any complaints about deir actions or inactions, u're at liberty 2 report deir conducts 2 various platforms provided by the NPF to deal with unprofessional conduct of members of the Force rather dan call 4 end SARS 08057000001".
However, Inspector General of Police Ibrahim Idris later ordered an "instant investigation into all the allegations, complaints and infractions levelled against the personnel of the Special Anti Robbery Squad across the country".
Segun Awosanya, who started the petition, told BBC Pidgin that there would be a protest to Aso Rock, seat of power of the Nigerian government in January, if the government does not disband SARS by the end of 2017.