Equatorial Guinea 'stops coup attempt by mercenaries'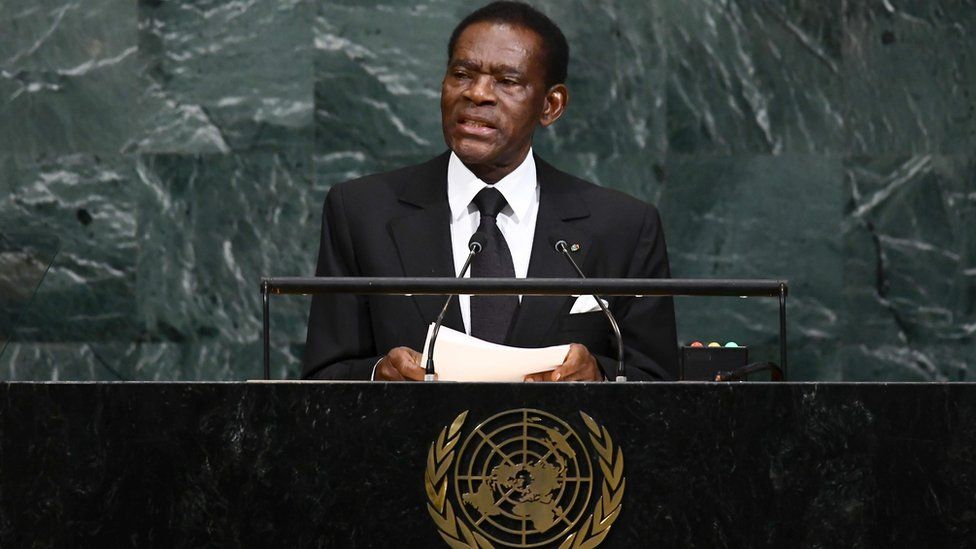 Mercenaries have attempted to launch a coup in the Western African state of Equatorial Guinea, its government says.
At least 30 armed men from Chad, Cameroon and the Central African Republic were arrested late last month, a minister said.
They were found with rocket launchers, rifles and ammunition just over the border in Cameroon, he added.
The government of President Teodoro Obiang Nguema is often accused of corruption and human rights abuses.
Troops in Equatorial Guinea shot dead a "mercenary" during clashes on Wednesday near the border with Cameroon, TVGE, the state television reported, adding that security forces had "used gunfire to disperse (others) in the forests along the border".
Mr Obiang has been in power for nearly 40 years, taking power in a coup by ousting his own uncle, Francisco Macias Nguema, who was shot by firing squad.
The long-time leader was re-elected to a fifth seven-year term in 2016.
In a statement read on public radio, Security Minister Nicholas Obama Nchama blamed the alleged coup on mercenaries hired by opposition groups and supported by unnamed "powers".
He said the coup attempt had been foiled with the help of the Cameroonian security services.
Equatorial Guinea has faced alleged coup attempts in the past.
In 2004, a former British soldier, Simon Mann, was linked to an attempt to overthrow Mr Obiang.
The former British Army officer and businessman was arrested in Zimbabwe in 2004 and extradited four years later to Equatorial Guinea.
In 2008, Mr Mann was sentenced to 34 years in prison, although a year later he was released after being pardoned by Mr Obiang.
Equatorial Guinea is one of sub-Saharan Africa's biggest oil producers, but much of its population still lives in poverty.