South Africa: Cape Town slashes water use amid drought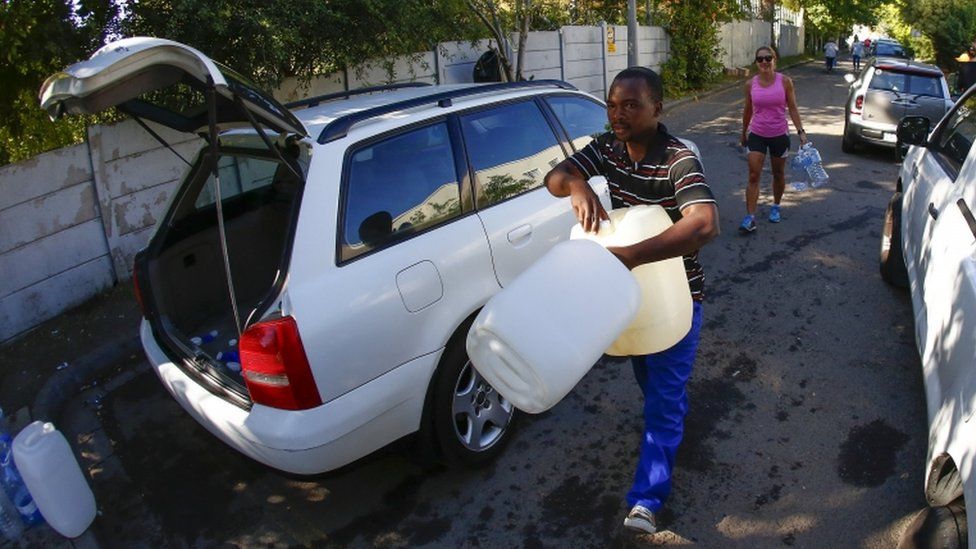 The South African city of Cape Town will slash residents' water allowance to 50 litres a day from next month amid fears that it could become the world's first major city to run out of water.
The city had reached a "point of no return", Mayor Patricia de Lille said.
Cape Town, a popular tourist destination, has been hit by its worst drought in a century.
Ms De Lille warned that the city risked reaching "Day Zero" on 21 April, when taps in homes could run dry.
"We can no longer ask people to stop wasting water. We must force them," she said at a press conference.
"Despite our urging for months, 60% of Capetonians are callously using more than 87 litres per day," she added, referring to the current daily limit.
A person uses about 15 litres per minute for a typical shower and the same amount when flushing a standard toilet, according to WaterWise, a South African water usage awareness campaign.
Current limit per resident: 87 litres; from 1 February: 50 litres
Day Zero (predicted day non-essential supplies to be cut off): 21 April (revised down from 29 April earlier this month). Takes effect when dams reach 13.5% capacity; currently at 28.1%
70% of Cape Town water use is in domestic homes - so:
Fix water leaks on your property
Use drinking water only for drinking, cooking and essential washing
Only flush the toilet when necessary
Cut showers to two minutes
Collect your shower, bath and basin water and re-use to flush toilet, water garden and wash car
Only run washing machines and dishwashers with a full load
Source: Cape Town government
Cape Town had earlier banned car washing and filling up swimming pools as part of efforts to conserve water.
However, the measures would "simply not be enough" and the crisis had "reached a new severity necessitating a series of new emergency measures", Ms De Lille said.
Much of southern Africa has been recovering from a drought caused by the El Nino weather phenomenon, following heavy summer rains.
However, Cape Town is still gripped by a drought and has had very low rainfall for the last three years.