Zuma must go, says Nelson Mandela Foundation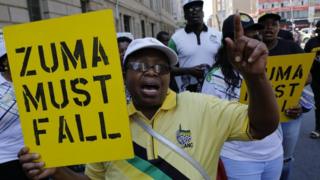 The Nelson Mandela Foundation has called for South Africa's controversial President Jacob Zuma to quit as he faces growing pressure to stand down.
South Africa had seen "systematic looting" under Mr Zuma's rule, and he "must go sooner rather than later", the foundation said.
The governing ANC party has called a meeting of its top body for Wednesday to decide on Mr Zuma's future.
The president has so far resisted calls to quit over corruption allegations.
Mr Zuma, 75, was replaced as party leader by his deputy, Cyril Ramaphosa, 65, in December.
Mr Ramaphosa is now the front runner to succeed him as president.
The president, in power since 2009, is due to make a state of the nation address on Thursday, and some in the party want Mr Zuma to leave office ahead of that speech.
Mr Zuma had "abused the trust" of South Africans and "betrayed the country Nelson Mandela dreamed of", the foundation, which is run by close colleagues of South Africa's first black president, said.
"He must go because he has demonstrated that he is not fit to govern. We call on the state to hold him accountable for his actions. Some things cannot be pardoned," it added in a statement.
Mr Zuma has repeatedly denied corruption allegations.
On Monday, senior ANC officials held an emergency meeting in the main city, Johannesburg, to discuss his future.
A "dominant view" emerged from the meeting, but it "wasn't the only view", ANC deputy secretary-general Jessie Duarte said at a media briefing.
She refused to go into details, saying the party's National Executive Committee (NEC) will make a final decision on Mr Zuma's future on Wednesday.
If the committee agrees to recall Mr Zuma, the BBC's Andrew Harding says, it would be very hard for him to resist.
Mr Zuma, who spent time in prison for his part in the fight against apartheid, met the ANC's top six on Sunday. They are said to have failed to convince him to stand aside.
Other unconfirmed reports from Sunday's meeting say that Mr Zuma asked for protection from prosecution for himself and his family.
Why does the ANC want to remove him?
Mr Zuma's presidency has been overshadowed by allegations of corruption.
In recent years his links to the wealthy India-born Gupta family, who are alleged to have influenced the government through their relationship with Mr Zuma, have caused his popularity to plummet. In South Africa, it has become known as "state capture".
Both Mr Zuma and the Guptas deny the allegations.
Then there is also the country's struggling economy, with the unemployment rate rising to about 28%.
As a result, many in the ANC fear his presidency has become toxic - and is hurting the party's standing.
That appeared to be borne out at the 2016 local elections, when the ANC lost ground to the opposition Democratic Alliance (DA) and Economic Freedom Fighters (EFF).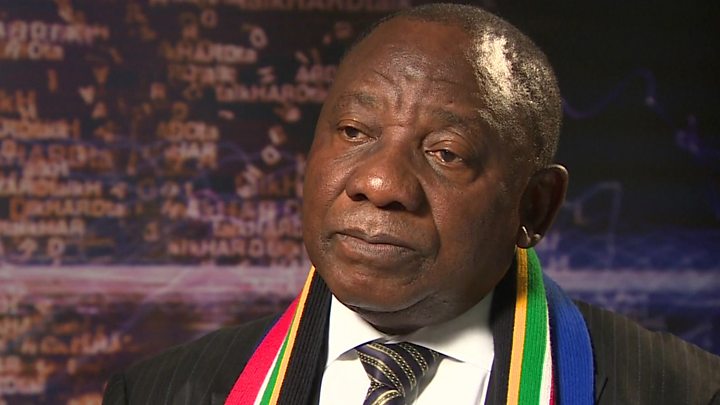 With a general election set for 2019, the ANC will be keen to distance itself from any more negative press - and therefore it is perhaps not surprising that Mr Ramaphosa was elected the party leader on an anti-corruption platform.
However, Mr Zuma still has his supporters within the ANC - including at least two of the top six - so nothing is definite.
On Monday, there were scuffles out the ANC headquarters between small groups of pro- and anti-Zuma supporters.
---
What are the allegations against him?
2005: Charged with corruption over multi-billion dollar 1999 arms deal - charges dropped shortly before he becomes president in 2009
2016: Court orders he should be charged with 18 counts of corruption over the deal
2005: Charged with raping family friend - acquitted in 2006
2016: Court rules he breached his oath of office by using government money to upgrade private home in Nkandla - he has repaid the money
2017: South Africa's public protector said he should appoint judge-led inquiry into allegations he profiteered from relationship with wealthy Gupta family - he denies allegations, as have the Guptas
2018: Zuma approves inquiry
---