Cyril Ramaphosa: ANC impatient over Jacob Zuma future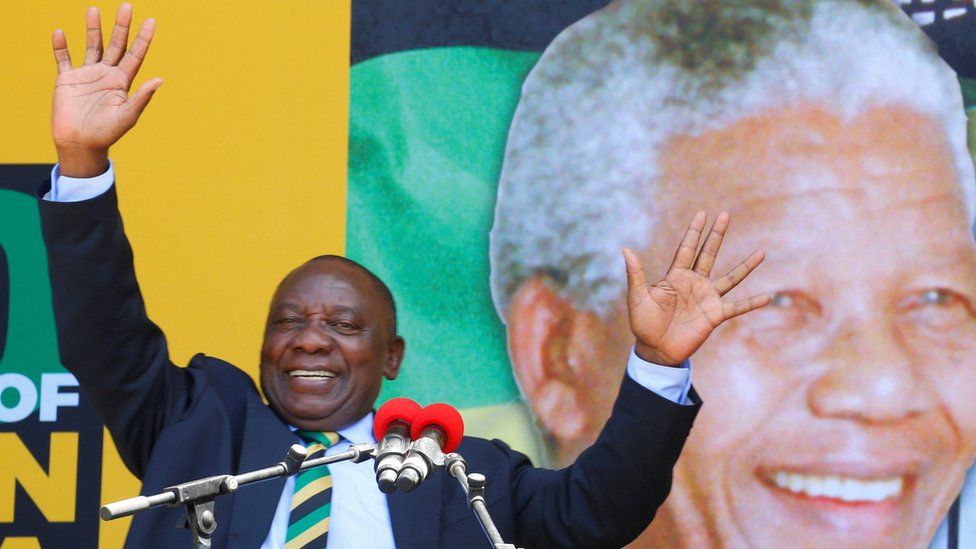 The leader of South Africa's ruling party has acknowledged growing impatience over the failure to resolve President Jacob Zuma's future.
Cyril Ramaphosa said the matter had to be handled with "care and purpose".
"We know you want this matter to be finalised," he told a crowd marking 100 years since the birth of the country's first black president, Nelson Mandela.
Mr Zuma is facing extensive corruption charges after a turbulent nine years in power.
The African National Congress (ANC) says its National Executive Committee (NEC) will meet on Monday to decide Mr Zuma's future.
The BBC's Africa Correspondent Andrew Harding says the NEC is likely to ask Mr Zuma to step down.
That sounded, on reflection, more like an ultimatum than a speech.

— andrew harding (@AndrewWJHarding) February 11, 2018
A similar NEC meeting was called off last week after direct talks between Mr Zuma and Mr Ramaphosa, who is the deputy president as well as the new leader of the party.
Mr Zuma has faced increasing pressure to quit since December, when Mr Ramaphosa replaced him as leader of the ruling African National Congress (ANC).
In a speech at the event in Cape Town, Mr Ramaphosa said the key aim of transition talks was to unite South Africans.
He also acknowledged the disunity within the ANC but said Mr Mandela's centenary year "offers us a new beginning".
Urging South Africans to restore the values Mr Mandela stood for, he called for an end to corruption and said those who had stolen state assets would be brought to justice.
"We must work together as Madiba taught us to push back the frontiers of poverty, unemployment and inequality," he said, using another name for Mr Mandela.
He also addressed the Cape Town water crisis, which has seen residents limited to using 50 litres a day amid fears the city could run out of water in May.
"If there ever was a time when we should be working together, this water crisis is the time," he said.
A number of other regions in the country were suffering similar water shortages, he said.