The luxury labels coming out of Africa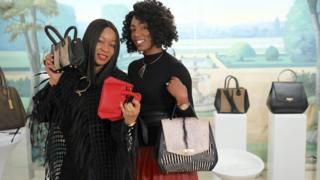 Luxury labels from the African continent are expanding rapidly and some hope they will become the next generation of global household names.
The global luxury goods industry is worth more than $1.5tr (£1tr), according to research by global business consulting firm, Bain & Company. This market is expected to grow by up to 5% annually over the next three years.
The new wave of brands targeted at big spenders could mean brands from Africa might start competing with some of the best known labels in the world.
That said, a look at the top luxury goods companies shows European countries and the United States still dominate the industry. The question is, how soon until we start seeing African brands take a place alongside the leading luxury powerhouses?
Vania Leles is one of many African-owned luxury firms integrating the continent into their brand ethos.
Born and raised in Guinea-Bissau, the gemmologist set up her London-based jewellery shop called Vanleles Diamonds in 2011. Seven years on, the shop is now based in Mayfair, placed between French brands Cartier and Chanel.
She said that Africa was a source of inspiration for her, particularly childhood memories of trips around the continent - she travelled to around 15 countries between the ages of 15 and 18.
Most of the gemstones used in the jewellery shop are from ethical sources across Africa, she said.
"Probably 80-90% [of gems and diamonds] come from Africa, but you don't see brands saying: 'These diamonds are from Botswana.' I think it's about time that we champion our own natural resources."
Ms Leles explains that the popularity of Colombian emeralds and Burmese rubies is not rooted in their real value, but instead it is to do with branding and marketing.
"Money being thrown into it, auction houses buying into it, big brands advocating it. When we talk about how popular the Colombian emeralds are, there's been a great investment in marketing.
"But in terms of beauty and value, Zambian emeralds are just as beautiful and are just as valuable. It's just a matter of educating the general consumer."
Ms Leles consciously places the brand's heritage at the heart of its identity, heavily marketing the origins of her gems in contrast to other jewellers.
Black beauty products for Hong Kong
High-end department shop Harrods is host to Epara Skincare, a beauty product that blends African botanical ingredients such as argan oil, shea butter and liquorice root extract. Each pot comes with a price tag of more than $100.
Epara's founder, Ozohu Adoh, created the brand specifically to address the beauty concerns of women of colour, but she has noticed the product's appeal has extended beyond her target market.
"When I did my original business model, I thought our biggest market would be London and then some select countries in Africa. So I was very surprised when I was approached by an agent in Hong Kong saying they would like to sell the brand. That's been one of our biggest orders to date."
Ms Adoh sees parallels between her brand and Asian beauty labels that have crossed over to appeal to women of all heritages.
"We have [seen] Korean beauty and Japanese beauty products, which were created for Korean and Japanese women, but have become mainstream and everyone is buying into it."
More and more companies like Vanleles and Epara are entering the global market and doing fairly well.
Heritage brands like Chanel and Hermès were built over centuries and have had time to develop and be recognised globally.
People like branding consultant Uche Pezard think technology can help to fuel a shift in the luxury market to let newcomers leave their mark.
'Real footprint'
Ms Pezard, who is the founder of Luxury Connect Africa, says she has noticed a growing demand for luxury products from Africa.
According to her, the interest in these products comes from consumers around the world and not just from those living in African or members of the African diaspora.
She says: "We're currently in the age of content and consumers consume content before they consume products. People use social media, digital media and the ease of sharing information.
"Consumers are generally aware of brands' back stories, heritage stories, authentic stories and people buy into that first before they buy into the products."
When speaking about her new business platform, Luxury Connect Africa, she explains the aim is to help African companies make the transition into much bigger global businesses.
She represents several clothing fashion labels including South Africa's Maxhosa By Laduma, Nigeria's Tiffany Amber and plans to nurture the new wave of heritage luxury brands.
In Ms Pezard's opinion, until now many luxury firms from Africa have not been prepared to compete, lacking strong business mechanisms behind them. However, this is gradually changing.
"African creators, designers, entrepreneurs and innovators are beginning to take advantage of the new access to international markets whether through e-commerce or social shopping or international travel. They're beginning to gain a real footprint in the international market space."