Dapchi kidnap: Nigerian father's pain as daughter flies to Abuja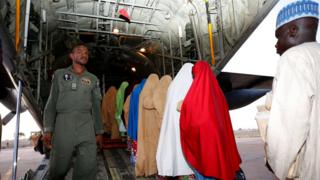 The father of a Nigerian schoolgirl kidnapped by Boko Haram has described the pain of losing his daughter again after she was flown to meet the president shortly after her release.
He told the BBC he had only been able to see his daughter at hospital for a few minutes.
"Even though I assured her I wouldn't leave her there, we were all asked to leave and they took them away."
His daughter was among 110 girls taken from their school in Dapchi last month.
Of those seized by Islamist militants, 104 girls were released on Wednesday. Five reportedly died during their captivity while one girl, a Christian who refused to convert to Islam, is still being held hostage.
Two other people - a boy and another girl from Dapchi - were freed at the same time, the government says.
The government denies claims that Boko Haram was paid a ransom for the girls' freedom, or that there was a prisoner swap.
Information Minister Lai Mohammad told the BBC's Focus on Africa that the girls' return was part of ongoing talks about an amnesty in return for a ceasefire.
"We did not pay any ransom for the girls. We discussed with them the cessation of hostilities in return for possible amnesty," he said.
"If they [Boko Haram] returned and lay down their arms and renounce their membership of the insurgency, then we will give them free passage and they can return to society," Mr Mohammad said.
The father, whose name we are withholding to preserve his daughter's anonymity, told the BBC's Newsday programme: "The painful thing is you don't seem to have a right over your daughter."
However, he said he understood she was safe in the hands of the government.
The freed girls are expected to undergo some medical screening and debriefing before meeting President Muhammadu Buhari, possibly on Friday.
The president previously said that his government had chosen to negotiate their release rather than use military force.
His administration has been under pressure to resolve the 19 February abduction, which revived painful memories of the 2014 kidnapping of 276 girls from the town of Chibok.
Former Nigerian President Goodluck Jonathan was criticised for his handling of the abductions in Chibok, some 275km (170 miles) south-east of Dapchi.
The abductions gained worldwide attention through a campaign spearheaded by former US first lady Michelle Obama.
The freed Chibok girls were also immediately taken to meet then-President Jonathan after their release. However, more than 100 girls from Chibok remain missing.
Amnesty International criticized the Nigerian military's handling of the Dapchi kidnapping, saying it had ignored repeated warnings about the movement of Boko Haram fighters prior to the abduction.
Amnesty's Nigeria director Osai Ojigho called the kidnapping a "catalyst for the government to ensure adequate protection of all schools in the north-east so that this can never happen again".
The military said Amnesty's allegation was an "outright falsehood", AFP reports.