Boko Haram attack: More than a dozen dead in Maiduguri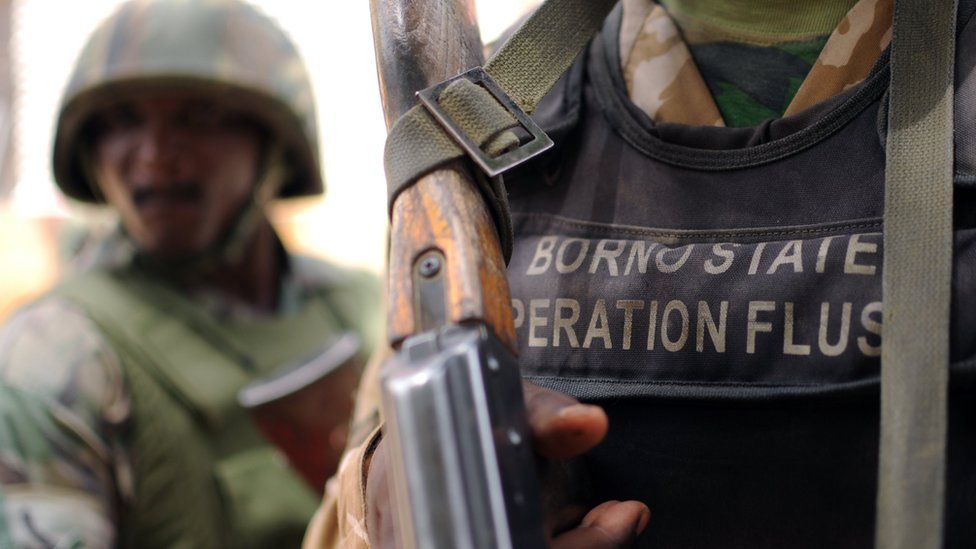 More than a dozen people have been killed after getting caught in a clash between suspected Boko Haram militants and soldiers in northern Nigeria.
Eighteen militants launched an attack using suicide bombers, mortars and gunmen on Sunday, a military officer told news agency AFP.
They targeted two villages and a military base near the city of Maiduguri, in Borno State.
The emergency services said a number of villagers were killed trying to escape.
It is the largest attack since the government revealed it was in talks with the Islamist militants.
According to Nigerian army spokesman Col Onyema Nwachukwu, soldiers killed "six of the insurgents and neutralised seven suicide bombers" as they repelled their attempt to enter Maiduguri - the city at the epicentre of the insurgency.
Unable to reach their target, militants turned their fire on the two villages, Bale Shuwa and Alkaranti, Col Nwachukwu added.
Fourteen civilians and a solider were killed, and another 83 sustained injuries.
Bello Dambatto, of the State Emergency Management Agency, told AFP: "The victims were killed while trying to escape the fight between the insurgents and the military."
The attack, which lasted about an hour, began at around 20:00 local time (19:00 GMT). Blasts could be heard by people in the city.
Col Nwachukwu called for people to remain vigilant.
"It is clear that the remnants of the Boko Haram terrorists are hell-bent on remaining relevant by attacking soft and vulnerable targets," he said.
Boko Haram has killed some 20,000 people and displaced more than two million since it began a campaign of violence to create an Islamic state in the north of the country in 2009.
The government confirmed last month it was in talks with Boko Haram militants.
However, it is unclear whether it was speaking to all factions of the group, which splintered two years ago.