European tour firm denies Cameroon 'kidnapping'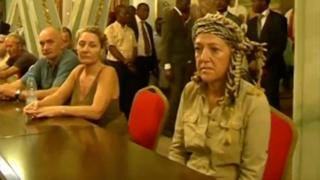 A European tour operator has denied that its clients were kidnapped and then rescued in Cameroon's south-western region.
African Adventures said a group of seven Swiss and five Italian nationals were briefly stopped by armed men at a checkpoint, but were allowed to leave.
The government said on Wednesday that its special forces had freed them after a fight with "secessionist terrorists".
The incident occurred in the restive English-speaking region.
Residents in the Anglophone North-West and South-West regions of the country have been protesting against what the say is marginalisation by Cameroon's Francophone majority.
In recent months separatists operating in the two regions have been demanding independence with proponents calling for the creation of an independent state called Ambazonia.
The Swiss tour operator said in a statement that all of its clients were safe and had not been subjected to violence.
It said the encounter had involved a number of armed individuals who performed checks on documents and vehicles.
"Our negotiation carried out with this group resulted in their granting our permission to leave," it said.
It added that just before the group - on its way to a tourist site - left the scene, Cameroon's special forces arrived and "a brief engagement followed", AFP news agency reports.
Government spokesman Issa Tchiroma Bakary said on Wednesday that 18 hostages, including six Cameroonians, had been rescued on Monday, hours after they had been kidnapped.
The main Anglophone secessionist group - the Ambazonian Defence Force (ADF), which has been battling security forces, has denied taking part in the abduction, Reuters news agency reports.
It quoted Cho Ayaba, a leader of the Ambazonian Governing Council, as saying: "ADF does not take hostages. ADF arrests enablers and collaborators and does not arrest foreign nationals."
The recent unrest in the region sprang from months of clashes between residents and security forces over what residents say is marginalisation by the French majority.
Educators and lawyers in the English-speaking areas have been opposed to the employment of teachers who only speak French in technical schools. Lawyers are also opposed to the use of French in court sessions.