Kenya elephant conservationist Daphne Sheldrick dies, aged 83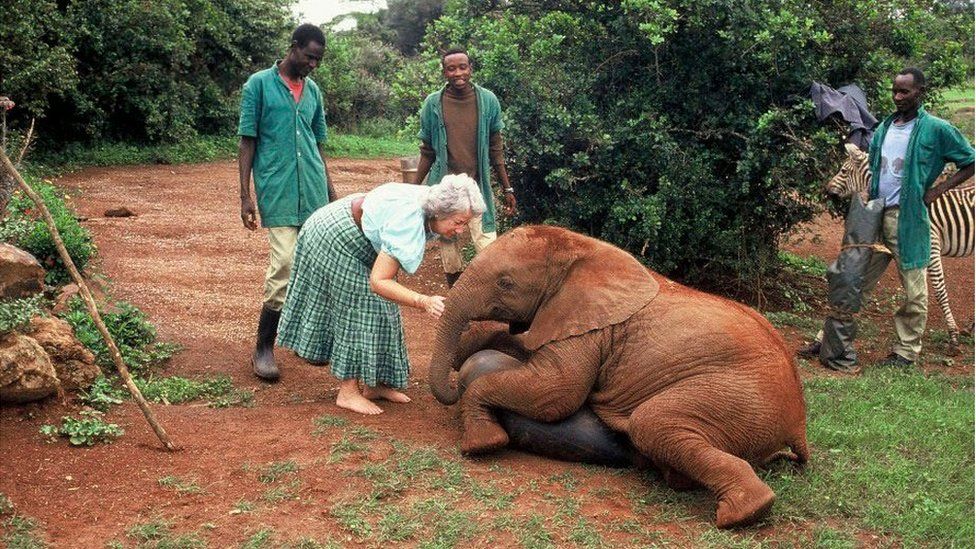 Kenyan elephant conservationist Daphne Sheldrick has died of cancer aged 83.
She helped save the lives of more than 230 elephants - many of which had lost their mothers to poachers or drought - by developing a milk formula and successfully rearing them.
Her Kenyan charity is world-renowned for its care of orphaned elephants.
It is with sadness that we announce the passing of our Founder, Dame Daphne Sheldrick, yesterday evening after a long battle with breast cancer. Her legacy is immeasurable and lives on in the tiny steps of baby elephants for generations to come: https://t.co/tmpFmkoh4w pic.twitter.com/SOG61JERAS

— Sheldrick Wildlife (@DSWT) April 13, 2018
Born and raised in Kenya, Dame Daphne spent the first half of her career working alongside her British husband David, who founded Kenya's biggest national park, Tsavo East.
After his death in 1977, she founded the David Sheldrick Wildlife Trust (DSWT), which is best known for rescuing and reintegrating orphaned elephants into the wild.
It took her 28 years to develop the special milk formula to bottle-feed baby elephants.
She warned in 2016 that if the rate of ivory poaching continued, African forest elephants - the smallest of the three elephant species - could be extinct as early as 2025.
Dame Daphne published several books and was featured in many television programmes and films, including the 2011 documentary Born to be Wild.
In 2006, Queen Elizabeth made her a dame.