Kenya dams 'a flood risk' after heavy rains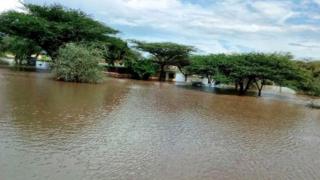 Two dams in Kenya are close to overflowing because of heavy rains, threatening the lives of thousands of people, the Red Cross has told the BBC.
Abbas Gullet, the head of the Kenya Red Cross, advised people in east and central regions to move to higher ground because of the flood risk.
He said that 200,000 had already been displaced because of flooding, many staying in schools or open areas.
Roads have been submerged under water and there have also been landslides.
The two dams - Masinga and Kamburu - are fed by water from Mount Kenya.
People have been sharing pictures on social media of the aftermath of the flooding, including one of a Red Cross member of staff helping an elderly man in south-eastern Tana River county, where 50,000 have had to leave their homes.
The rains have forced President Uhuru Kenyatta to cancel his travel plans to western Kenya, where marooned houses can be seen below. He was due to attend a high-profile conference and has now decided to read his speech via video link.
A drone shot shared by a local TV station shows a damaged section on a major road. It is in Mahi-Mahiu in the south-west where a huge crack that might one day split Africa into two appeared.
The police posted a picture of this officer directing traffic on a flooded road.
This aerial shot of Garissa town, in the north-east of the country where thousands have been displaced, shows the swollen River Tana.
In the capital, Nairobi, one tweeter considered his options for getting home.
Another Nairobi tweeter sent out a rallying call for the city's residents to snap similar pictures to show the authorities that there is a drainage problem.
And some on social media appreciated that the flood waters had forced motorists to observe traffic rules. The notorious public buses called "matatus" - like the one in the tweet below - are not known for staying in single file.