Noura Hussein: Sentenced to death in Sudan for killing 'rapist husband'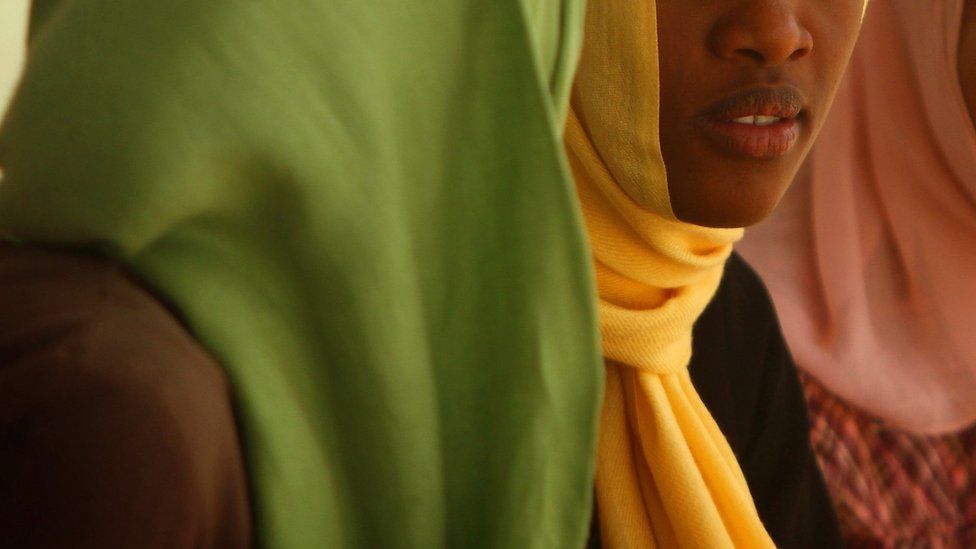 A court in Sudan has sentenced to death a young woman for killing her husband after he allegedly raped her as his male relatives restrained her.
The judge in Omdurman confirmed the death penalty for Noura Hussein after her husband's family refused to accept financial compensation.
Human rights groups are calling for her conviction to be overturned.
Ms Hussein, who is now 19, was forced into the marriage at the age of 16 and had tried to run away.
She is said to have wanted to finish her education and train as a teacher.
Her case has attracted widespread attention on social media where a campaign called #JusticeforNoura has been trending on Twitter.
I wrote this piece about the #JusticeForNoura campaign, and am aiming it at all those folk who want to tell us this is the fault of our faith, when Muslim women are the ones fighting for their own rights, every where around the world. https://t.co/twm8b6xexS

— Yassmin Abdel-Magied (@yassmin_a) May 10, 2018
How did the killing come about?
Ms Hussein took refuge at her aunt's house but three years later she says she was tricked into returning home by her own family who then handed her back to her husband.
After six days she says he recruited some of his cousins who allegedly held her down as he raped her.
When he allegedly attempted to do the same the following day she lashed out at him with a knife and stabbed him to death.
She then ran back to her parents who surrendered her to the police.
The Sharia (Islamic religious law) court convicted Ms Hussein of premeditated murder last month and on Thursday officially sentenced her to death by hanging, according to Reuters news agency. Her lawyers have 15 days to appeal.
"Under Sharia law, the husband's family can demand either monetary compensation or death," Badr Eldin Salah, an activist from the Afrika Youth Movement who was in the court told the agency.
"They chose death and now the death penalty has been handed down."
What do human rights groups say?
Yasmeen Hassan of Equality Now, one of the groups seeking to have the conviction overturned, told BBC News the verdict had not surprised her.
"Sudan is an extremely patriarchal place and gender norms are very strongly enforced," she said.
"It is a place where girls are allowed to be married at age 10, there's legal guardianship of men over women, women are told you have to walk a straight and narrow line and don't transgress.
"To Noura's credit, she is a feisty girl, she is a girl who wanted her education and wanted to do good in the world and she has been trapped in the situation and is now a victim of this system."
Amnesty International said the sentencing of a woman to death for "killing her rapist husband in self-defence" highlighted the "failure of the authorities to tackle child marriage, forced marriage and marital rape".
"Noura Hussein is a victim and the sentence against her is an intolerable act of cruelty," said Amnesty representative Seif Magango.
"The Sudanese authorities must quash this grossly unfair sentence and ensure that Noura gets a fair retrial that takes into account her mitigating circumstances."