Ebola outbreak: Experimental vaccinations begin in DR Congo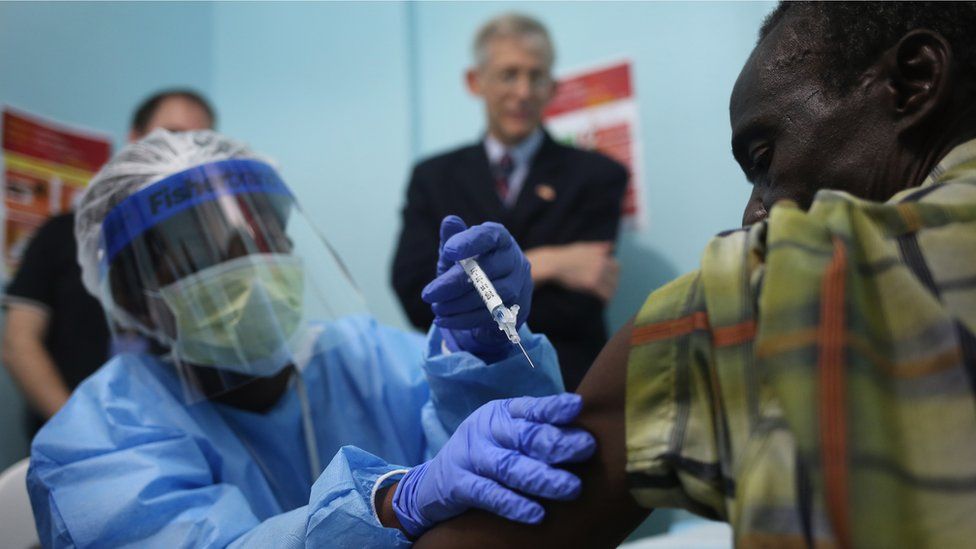 Health workers in the Democratic Republic of Congo have begun an immunisation campaign in an attempt to halt the spread of an outbreak of the deadly Ebola virus.
The experimental vaccine proved effective when used in limited trials during the epidemic which struck West Africa in 2014-16.
At least 26 people are believed to have died in the current outbreak.
Health workers were among the first to receive the vaccine on Monday.
It is an infectious illness that causes internal bleeding and often proves fatal.
It can spread rapidly through contact with small amounts of bodily fluid, and its early flu-like symptoms are not always obvious.
More than 11,300 people died in the earlier outbreak in 2014-16.
How serious is the current outbreak?
At least 45 cases of Ebola have been reported, including three health workers, since the outbreak began earlier this month.
The virus has already spread from rural areas to the north-western city of Mbandaka, a major transport hub on the River Congo, where at least four cases have been confirmed.
This has sparked fears that the outbreak could reach the capital, Kinshasa, as well as neighbouring countries.
However, the World Health Organization (WHO) has said it has "strong reason to believe that the outbreak can be brought under control".
What do we know about the medicine being used?
The vaccine, made by pharmaceutical firm Merck, is not yet licensed, but was effective in limited trials during the West Africa outbreak.
Dr Michel Yao, from the WHO, told the BBC that the vaccine had been tested in Guinea and that "almost all of the people who were vaccinated could not get the disease".
The WHO has sent more than 4,000 doses to the Democratic Republic of Congo, with another batch set to follow.
Health care providers and funeral workers are being vaccinated initially, before the programme is extended to more than 500 people who may have come into contact with those infected with the virus, in a so-called "ring vaccination".
One of the most immediate obstacles to the immunisation campaign is the country's unreliable electricity supplies, as the vaccine needs to be stored at a temperature of between -60 and -80 C.
Initial stocks of the vaccine have arrived in Mbandaka city, but they must now be transported through densely forested areas to reach remote rural areas where many cases have been reported.
A further issue is that, as the vaccine has not yet been approved, its use is dependent upon informed and signed consent from all patients. This means that translators will need to be brought in to aid communication between health workers and local communities.
One teacher in the region told the BBC's Newsday programme that people had stopped shaking hands when they greet. Ziko Ilema said: "I tried to greet a friend by shaking hands and he said: 'No, did you forget that Ebola is here?'
"They forbid people to greet by using hands, eating animals from the forest, and people are now living with fear."
Ebola is thought to be spread over long distances by fruit bats and is often transmitted to humans eating contaminated bushmeat - meat from wild animals such as monkeys or antelopes.
Bars, restaurants and offices in Mbandaka have started to provide soap and basins of water for people to wash their hands as a way to prevent the spread of the disease, according to the AFP news agency.
It also reports that officials are using infrared thermometers at the city's river ports to scan travellers in case they have a fever.
"But we don't have enough of the thermometers, so people are crowding up and getting annoyed," said Joseph Dangbele, an official at the private Menge port.
Health Minister Oly Ilunga has announced that all healthcare in the affected areas would be free.
This is the ninth outbreak of Ebola in DR Congo - it was named after the country's Ebola river.