Itai Dzamara: The man who stood up to Zimbabwe's Robert Mugabe and vanished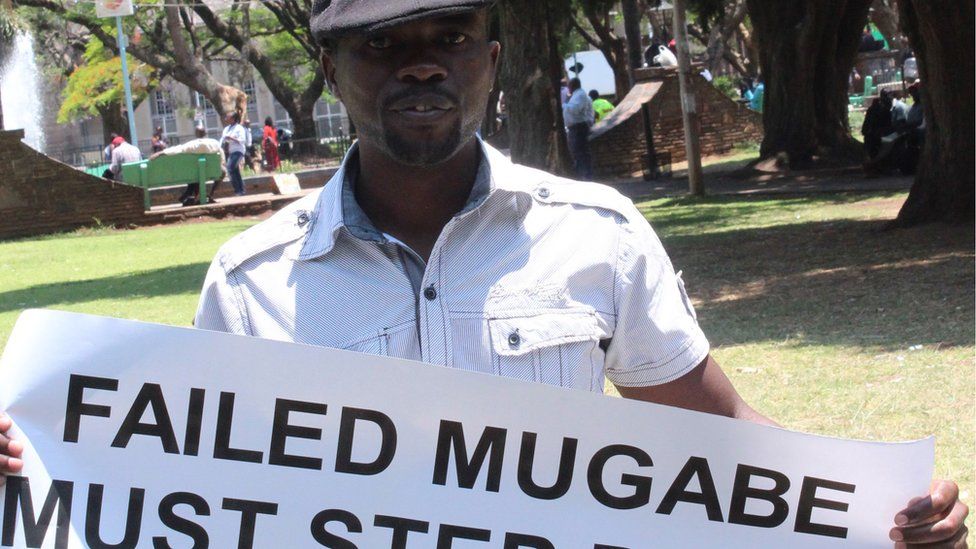 Itai Dzamara was one of the most outspoken critics of Robert Mugabe before his disappearance. Three years later, his loved ones are still waiting for answers. Kim Chakanetsa reports from Zimbabwe.
Sheffra Dzamara has not seen her husband Itai Dzamara in more than three years. Her life changed irrevocably on the morning of 9 March 2015 when Mr Dzamara was abducted.
Since then, she has lived a life in limbo, veering between hope and despair, unsure whether he is alive or dead.
Despite his absence, Mr Dzamara is still very much a presence in the house they shared off a quiet street in Harare's Glen Norah Neighbourhood.
In the corner of her living room is a large framed photo taken in a park on a sunny day.
In it, Mr Dzamara and his wife stand side-by-side, smiling. A snapshot of a happier, easier time.
Life since her husband disappeared has not been easy.
"To tell you the truth I feel lonely," Mrs Dzamara says.
However, she has had to put on a brave face for her 10-year-old son and daughter of five.
"When I am not happy they notice it. So for the sake of my kids I have to be smiling or happy."
"It's very hard for them because they [always] ask about their dad. Even today the boy surprised me by putting on his dad's cap for the first time. You can really see that he misses him very much," Mrs Dzamara adds.
That black flat cap had become synonymous with Mr Dzamara - he was often pictured in it after he began Occupy Africa Unity Square, a social movement animated by a single goal: to get then-President Robert Mugabe to resign.
In 2014 - the year Mr Dzamara began his one-man protest movement - that was an incredibly dangerous goal. Political dissenters often paid a price.
But day after day, Mr Dzamara returned to sit in Africa Unity Square, a tree-filled park in the centre of Harare, holding his sign: "Failed Mugabe must step down."
Soon others began to join him.
Dirk Frey, who first read about it online, recalls the cat-and-mouse games they would play with the police during their colourful, whistling lunchtime protests.
"It was like we were playing a game of chess against the authorities. We'd occupy the park and then they'd come chase us out and we'd run into the alleys surrounding the park and then come back.
"Eventually we reached an uneasy truce where, if we didn't do anything, they'd sit in their corner and we'd sit in ours. And then the moment we'd take out placards or hand out leaflets, they'd come after us."
These small acts of defiance came at a price. Mr Dzamara landed up in hospital several times after being beaten by police.
Then, on 17 October 2014, he took his protest a step further. He and two other protesters, Tichaona Danho and Philosophy Nyapfumbi, hand-delivered a petition to Mr Mugabe's office asking him to step down.
They were interrogated for eight hours and beaten. The move certainly got the attention of the wider public. After the petition was delivered, a newspaper columnist asked: "Is Itai Dzamara the dreamer we lack?"
Less than six months later, he disappeared.
The memory of Mr Dzamara's abduction is still very clear to the last person to see him - his barber.
Three years later, he still struggles to talk about it. But eventually, with a little coaxing, and a promise of anonymity, he recalls what happens,
That morning, he was working with another barber in their shop a few minutes from Mr Dzamara's home.
The barber-shop has since been repainted, but at the time it was a simple wooden structure without windows where neighbours and customers could casually walk in to chat or get a haircut.
Mr Dzamara was in the barber chair getting his beard trimmed when they noticed a white Nissan twin cab which seemed to be circling the block.
It looked out of place - but Mr Dzamara was confident he knew who it was.
"Ndeye vakomana," he said - a Shona phrase meaning "it belongs to the boys".
"The boys" were Zimbabwe's secret police.
Minutes later, two men dressed in plain clothes came in and asked for airtime for their mobile phones.
When the barber said they did not have any, the men said they were actually after a cattle thief - Mr Dzamara.
The activist was handcuffed and bundled into the back of the car.
The white car then sped off. In total, five men were involved in the abduction of Mr Dzamara. He has not been seen since.
At his office in Harare, Charles Kwaramba shows me the voluminous file he has built over the years in his capacity as Mr Dzamara's lawyer.
It contains appeals, applications, police reports and runs to hundreds of pages. As we page through the file, Mr Kwaramba talks me through the days and months that followed Mr Dzamara's abduction, when, he says, "nothing much was done".
It took a High Court order to get the police to act. An appeal for information on state media was launched.
Then, a few months after Mr Dzamara disappeared, his younger brother Patson received an anonymous text message, which purported to explain what had happened.
It listed the names of the five men involved in the abduction.
Mr Dzamara, it went on, had been killed, and his body buried in grave number 71 in the cemetery of Harare's high security prison, Chikurubi.
But it was not there any more, the texter said. It had since been moved to a dam north of the city.
Mr Kwaramba is not entirely convinced the message was legitimate. The police didn't establish who sent the text, and in the end it raised more questions than answers. The Dzamara family and their lawyer say the police didn't investigate thoroughly enough. The BBC tried to get a response from the Zimbabwean police, with no success.
The question of who took Mr Dzamara and why remains unclear. His brother believes "the ruling Zanu-PF and military intelligence" were behind it. The fear was that Mr Dzamara would be able to mobilise people into a revolt similar to the "Arab Spring".
The Zimbabwean government says it has no information about his detention or whereabouts.
The fall of Mr Mugabe has given the family new hope. A letter has been sent to the administration of new President, Emmerson Mnanagwa, but as yet there has been no response. The Minister of Foreign Affairs, Sibusiso Moyo, did tell the BBC that the days of abductions were over and the new government respects the lives of every Zimbabwean.
Back in Africa Unity Square - as always, a hive of activity - Mr Nyapfumbi is also waiting for answers.
"It pains me. When I see his picture, I start crying," Mr Dzamara's friend says, his voice breaking.
"They should just give him a decent burial. If they have killed him they must just give us back his remains."
Related Internet Links
The BBC is not responsible for the content of external sites.