Head of Kenya youth agency arrested in $78m corruption scandal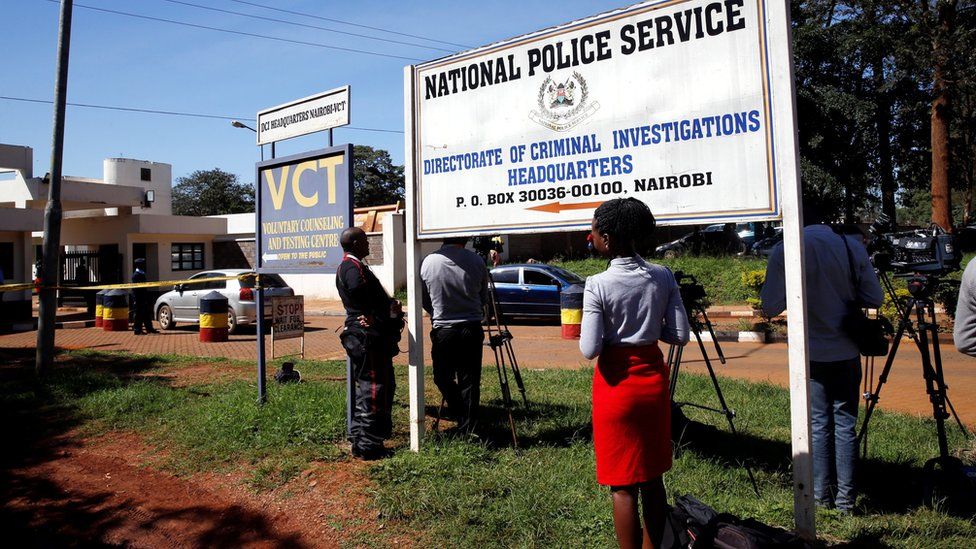 Kenyan police have arrested the head of a government youth agency as part of an investigation into the alleged theft of 8bn Kenyan shillings (£59m; $78m).
National Youth Service (NYS) Director General Richard Ndubai was detained, while 40 civil servants and 14 private sector officials were charged.
The missing funds were allegedly stolen in a scheme involving senior government officials and ghost suppliers.
This is the second corruption scandal to hit NYS in the last three years.
Kenya's chief prosecutor Noordin Mohamed Haji told a news conference that he would examine the alleged role of banks in the scandal, Reuters reports.
The probe is seen as a blow against President Uhuru Kenyatta's pledge to stamp out corruption, which he made when first elected in 2013.
The NYS is an initiative by the government to train young people in life and business skills. It was part of Mr Kenyatta's plan to fix Kenya's high youth unemployment.
The corruption scandal, which was brought to light by suppliers who had not been paid, saw funds allegedly stolen via NYS through fake invoices and multiple payments.
In one instance, a woman was revealed by Kenyan media to have received 59m Kenyan shillings ($586,000; £440,000) from NYS to supply canned beef, pineapples, beans, biscuits and hammers.
NYS is also alleged to have paid 10m Kenyan shillings for beef in a year. This would mean that each recruit would have to eat 66 kg (145 lbs) of beef a day.
The office of the Director of Public Prosecutions said on Twitter that prosecution would start against the suspects - most of whose names have yet to be made public.
Charges include stealing of public funds, forgery and abuse of office.
According to Reuters, a government SUV brought several unidentified people and Mr Ndubai to a police station in the Nairobi neighbourhood of Muthaiga on Monday.
Principal secretary of the youth ministry, Lilian Omollo, was among those detained, AFP says.
Neither she nor Mr Ndubai have commented publicly on their arrest.
Kenya country has been plagued by corruption scandals. According to a March report by the auditor general, some $400m of public funds could not be accounted for.
In recent weeks fraudulent payments of $30m have been uncovered at the National Cereals and Produce Board (NCPB). Meanwhile, multi-million dollar contracts were awarded to friends and family of employees at electricity utility Kenya Power.