Unravelling the mystery of Akon's Wakanda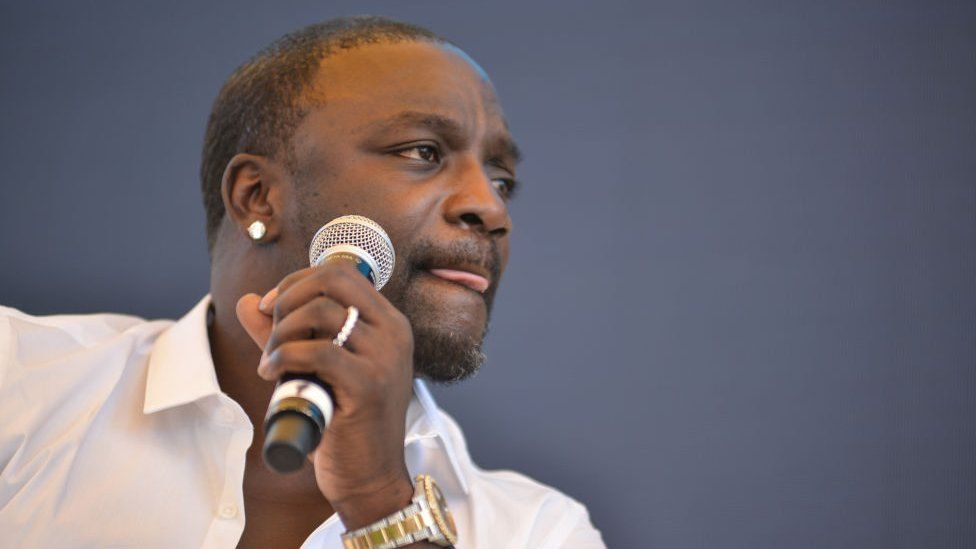 Akon has announced plans to build a "real-life Wakanda" in Senegal, built on the back of his almost-eponymous cryptocurrency, Akoin.
Which - as anyone who has watched Black Panther, and seen Marvel's imagined city, will understand - sounds rather magical.
The government appears to agree: the 41-year-old told crowds at Cannes Lions on Monday he had been gifted a not insubstantial 2,000 acres of land to start the project off.
But as far as we know, neither Senegal nor Akon have their own supply of vibranium - the fictional metal which gave Wakanda its wealth and power - and cities don't come cheap.
Which has left us wondering: what is going on?
Where exactly is this real-life Wakanda?
It is unclear. The BBC has tried to contact the government and Akon's representatives to find out more about the gift - to no avail.
However, we can try to pinpoint these 2,000 acres - the equivalent of 2,000 football fields - by what Akon's own website tells us: it is within five minutes of the new international airport, and a short drive from the capital, Dakar.
Which sounds very much like he may be talking about Diamniadio, the new city currently under development. The idea for the new city was first unveiled about three years ago, and is part of President Macky Sall's wider scheme to revitalise Senegal's economy.
There is another bit of evidence which suggests this and Akon Crypto City are one and the same: the picture of his new Wakanda includes some of the same buildings which appear on promotional material for Diamniadio Lake City, an exclusive development boasting high-end flats, houses and penthouses.
If this is Wakanda, it seems Wakanda is not cheap.
But how much will it cost?
Now Akon, who was born in the US to Senegalese parents, is reported to be worth a not insubstantial $80m (£60.3m), but even that falls a little short of the total bill.
But this city-within-a-city does not have anything to do with Akon. Instead, Diamniadio Lake City is being built by the Semer Group, which has offices in Dubai and Senegal.
Semer Group has now told the BBC it has nothing to to with Akoin, or the singer, and was unaware its image had been used.
So it seems, despite appearances, Akon was talking about somewhere else entirely.
What about this cryptocurrency?
Akoin - the musician's cryptocurrency - will be at the centre of the city's "transactional life", according to the Akoin website.
But more than that, it will be "established as stable currency alternative throughout Africa".
"It brings the power back to the people and brings the security back into the currency system," Akon explained at Cannes Lions on Monday.
"It also allows the people to utilise it in ways where they can advance themselves and not allow government to do those things that are keeping them down."
However, when it comes to the details, he admitted he left "the geeks" to figure it out.
To the uninitiated, it sounds like a big ask, leaving some, like Michael Kimani, the chairman of the Blockchain Association of Kenya, sceptical - even if he understands Akon's desire to move Africa away from its dependence on Western currencies.
"I think it is pie-in-the-sky," he told the BBC.
Especially, he adds, across the continent: such a currency would need stability across Africa, as well as a large take-up, in order to work.
"I have seen the need for cryptocurrencies, but within the context of small communities," he explains. "If there is a small business community somewhere, they could really benefit from having their own currency."
And that doesn't take into account that Akoin appears to rely on a smartphone in order to work.
Is Senegal ready for an app-based economy?
With Orange, one of Senegal's largest mobile phone providers, 2.5GB of data over the course of a month will set you back 5,000 CFA ($9; £7) - which is about 5% over the average income.
But even if they can afford it, how much of the population can actually download the app?
So, at the moment, it doesn't seem likely that the entire country will be on a cryptocurrency run through an app anytime soon.
But what do the Senegalese think about it all?
Not much, according to the BBC's Alex Duval Smith in Dakar.
The announcement has not been widely picked up in Senegal, she says, and the president's spokesman did not respond to a request for comment.
What's more, amid World Cup fever, social media statistics show only a few dozen uses of #Akoin.
This article was updated on 25 June to clarify Diamniadio Lake City and Crypto City have nothing to do with each other. Akoin has also now removed the image from its website.