'We're proud to be African'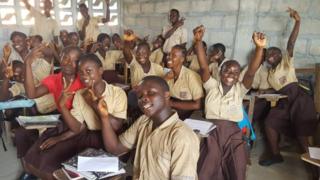 Africa is the future and its young people have big plans for making it the greatest continent on earth.
That was the message from more than 180 teenagers questioned by the British Council and BBC Africa's new youth programme What's New?
As well as having lots of ideas, these young people, aged 14 and 15, aren't holding back when it comes to their own ambitions.
"President of my country", "the greatest physicist in the world", "a footballer just like Messi", "a doctor who eradicates breast cancer" were just some of the answers when we asked our youngsters what they want to be when they grow up.
But though they are excited for the future, they are not naïve about the challenges ahead.
'More important than our parents'
"We are the wealthiest continent on the planet in terms of raw materials, but our leaders… let foreigners exploit this wealth," a 14-year-old from Dakar in Senegal said.
Others went further, citing corruption and weak governments for holding Africa back, yet they seem confident that they can make a difference, and soon.
A 15-year-old from Monrovia in Liberia said: "In five or 10 years' time we will be more important than our parents… and young people are really against corruption. We will use our energy wisely to make Africa the greatest continent on earth."
The teenagers were almost unanimous in feeling proud to be African.
"My colour alone can make me proud of being an African," said a Liberian teenager, and this was echoed elsewhere.
"Why shouldn't I be proud of the beautiful skin that I have?" said another in Senegal.
'We will grow the technology'
But some said they felt the effects of racism. "In white communities they discriminate against us… they think we are criminals," said a teenager from Kampala in Uganda.
"It hurts a lot because we are also humans, but with a different skin colour."
You may also like:
The data from Senegal, Liberia, Sierra Leone, Nigeria, Kenya, Zambia, Uganda and South Africa was collected in partnership with the British Council's connecting classrooms network, and the importance of education featured strongly in responses.
Many of the children the BBC spoke to were very aware they have opportunities their parents did not.
"My parents never completed school," a 15-year-old from Lusaka in Zambia told the BBC.
Another agreed, adding her parents used to walk very long distances to reach their school "and before they went they had to clean the house".
Technology was cited as the single biggest reason why they believe they will have a better standard of living than their parents.
Many said it had completely changed their lives and made it easier to study.
Some also think it will help them achieve their future goals and lead to lucrative careers.
"We will grow the technology, then the whole world will come to our continent and learn from us," said a pupil in Lagos, Nigeria.
With only a few years left in the education system, these 14- and 15-year-olds are looking to the future and determined to make a difference when they leave school.
"We are aware of the issues that prevent us from developing, but we have identified the solutions," said a youngster from Uganda.
Thousands of miles away in Senegal, another agreed: "Young people are the future of Africa. We will all do our best to make it great."
What's New? is a new programme for 11-16 year olds from BBC Africa. It can be watched via our network of partner stations in Africa and on YouTube.
The British Council's Connecting Classrooms is a global education programme for schools, designed to help young people learn about global issues and become responsible global citizens, as well as giving them the skills to work in a global economy.