Zimbabwe's rugby union team sleep rough in Tunisia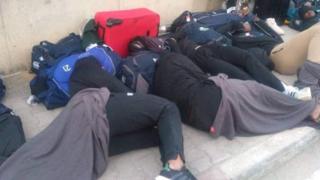 Players from Zimbabwe's national rugby union team have slept on the streets in Tunisia after complaining about the poor standard of hotel accommodation.
The team are in the North African country for a World Cup qualifier and the protest came after they had been held at immigration for six hours.
Rugby Africa, which is responsible for the fixture, has apologised for the "unfortunate situation".
It added that suitable accommodation has now been found in Beja.
Khaled Babbou, from the Tunisia Rugby Union, said there was "no intention to destabilise our opponents" before Saturday's match in Beja, which is about 100km (60 miles) west of the capital, Tunis.
The players were held up at the airport after the authorities said that they had to pay a visa fee of 20 euros ($23, £18) each, team captain Denford Mutamangira told Zimbabwean radio station Capitalk FM.
In a statement, Zimbabwe Sports Minister Kazembe Kazembe said that the team had been assured that visas would be issued on arrival.
Tunisia are set to play the Sables in the latest round of Africa Rugby's Gold Cup competition, the winner of which will automatically qualify for the 2019 Rugby World Cup in Japan.
Zimbabwe are currently in fourth place and Tunisia are in last place in the six-team competition.