Why the end of US sanctions hasn't helped Sudan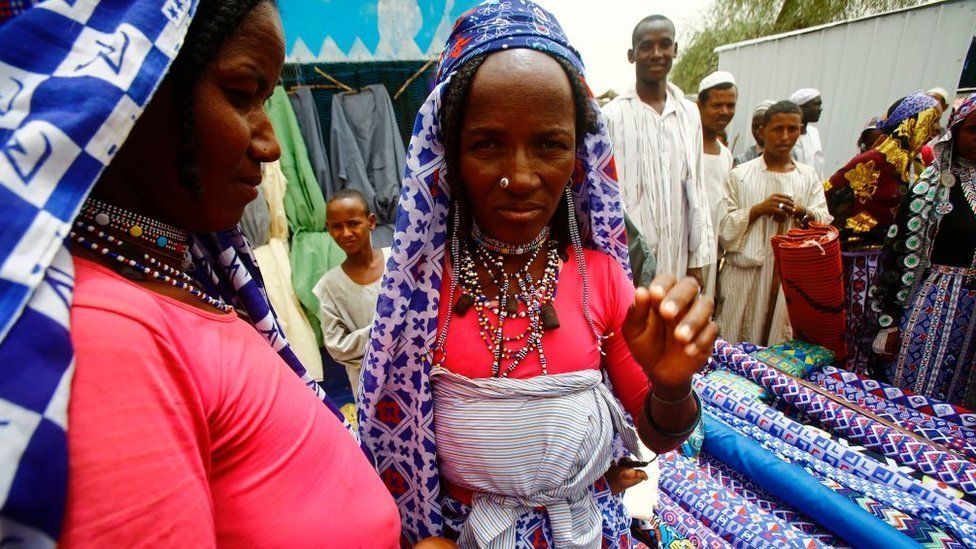 Sudanese hopes that the lifting of US sanctions will improve their economy have failed to materialise, writes the BBC's James Copnall from the capital Khartoum.
When the US decided to remove economic sanctions on Sudan last October, President Omar al-Bashir's government was ecstatic.
Not only did this signal a new era in the often tempestuous relationship with Washington, it allowed the politicians - and the Sudanese people - to hope that an end to a severe economic crisis was in sight.
But instead of regaining its footing, the economy has fallen off a cliff, with inflation soaring and people struggling to get by.
Nahla Mohaka, a film-maker and writer, is part of Khartoum's middle class - and, like almost everyone, is feeling the financial pinch.
She serves a delicious lunch of fuul - a bean stew with onions - and taamiya - the Sudanese version of falafel.
"Normally there would be a meat dish, but meat had become very expensive. And even the fuul - before this would have been about 10 Sudanese pounds ($0.56; £0.42), now it is 50 or more," Ms Mohaka says.
A few years ago, there were fewer than four Sudanese pounds to the dollar - now it is 29 by the official rate, and over 40 on the black market.
Inflation is over 55%, the highest rate for around two decades.
Salaries, though, have not risen much - leading to widespread anger and frustration.
Ms Mohaka's family have cut down on fruit, and meat of course. Many poorer families are forced to cut out entire meals to make do.
And Ms Mohaka points out, it is often women who bear the brunt of this.
"They are the ones working, they are ones who look after the family, they are the ones cooking, so this is a very hard situation for them especially," she says.
The sanctions stopped any transactions using US currency or products. In practice this meant any business which operated in the US was not able to trade with Sudan.
For years, international banks would not operate in Sudan, and the state and companies were largely unable to get spare parts for things like aeroplanes or vital health equipment.
Although this has ended in theory, in practice little seems to have changed.
Sudanese officials blame the US - suggesting that Washington has not properly spread the word that there is no longer any risk involved in doing business in Sudan.
Others, though, feel that the Sudanese government used the sanctions to mask its own responsibility for the deteriorating living standards.
Hafiz Mohamed, from the rights group Justice Africa Sudan, says the government's actions in conflict zones in Darfur, South Kordofan and Blue Nile, and in the way it runs the state, are to blame for the economic crisis.
"We need to first of all stop all the conflicts, and cut the spending on security and the military," he says, sitting in the courtyard of his office.
"The government spends less than 10% of its budget on health and education. The economic problem is the manifestation of the political problem Sudan faces," he adds.
The link between politics and the economy is important in other ways, too.
"All states in the world, the United States included, have their own human rights problems"
In January, people took to the streets to protest about a removal in wheat subsidies, which led to a price rise.
In response, the government detained dozens of people, many of them for almost three months with no charge.
Amjed Farid, a political activist, was one of them - in a jail the inmates nicknamed the fridge, because the air conditioning was permanently on.
"I saw many young people being beaten, many Darfuri and Nuba people are detained for a very long time.
"This needs to stop, and people need to be accountable for that. This is not protecting the national security of any country. This is a criminal offence against civilians."
Concern over human rights in Sudan is not new - President Omar al-Bashir's government have been accused of a catalogue of abuses in the nearly three decades since he took power in a coup.
But the issue is likely to play a vital role in Sudan's latest attempt to improve its economic situation.
The country's foreign policy over the last few years has been dominated by one thing: improving relations with the outside world to increase investment.
Overtures have been made to a dizzying array of countries, many of them fiercely opposed to each other: Turkey, Qatar, Saudi Arabia, Russia, and the European Union - the list goes on.
The attempts to broker peace in South Sudan - which resulted in a preliminary agreement between President Salva Kiir and the rebel leader Riek Machar in Khartoum last week - can be seen in this light.
Security in South Sudan benefits Sudan - particularly if the South Sudanese get their oil production up to the level it hit at the time of its independence in 2011.
The South Sudanese export their oil through Sudan's pipelines and export terminals, at a cost of around $25 per barrel - any increase in production is a huge boost to the treasuries of both countries.
But at the heart of Sudan's drive for better foreign relations is the link to America.
Now Sudan wants to get off the list of countries that the US lists as "sponsors of terrorism".
If it gets the designation removed, debt relief and international financial aid would be possible, bringing an end, perhaps, to the economic crisis.
To do so, the Sudanese will have to make progress on a number of areas - including human rights.
Typically, Sudanese officials deny that any abuses take place.
So I was surprised when the foreign minister, Al Dirdiry Mohamed Ahmed, took a slightly different line.
"All states in the world, the United States included, have their own human rights problems. Sudan is having problems, like any other state, and we are working hard to resolve those problems."
His next sentence summed up Khartoum's change of approach as it tries to weather the economic storm.
"Definitely engagement with the international community will help us - rather than seclusion," he says.
The Sudanese government is not monolithic, and there are some who resist the need to change, not least because the feared security services and the narrow space allowed for opposition politicians and activists are reasons why this government has lasted so long.
And the authorities have another problem: President Bashir himself.
He is indicted by the International Criminal Court for genocide, war crimes and crimes against humanity allegedly committed in Darfur. He denies the charges.
It is difficult to see how the president could step down, knowing that this could lead him to a trial at The Hague. Already it seems likely he will run again in the 2020 elections, despite previous promises that this would be his last term.
As long as he stays in power, it will be hard for Sudan to get off the list of "state sponsors of terror", and fully restore its relations with the US and others.
With prices rising by the day, and growing anger about it, this is a difficult time for the Sudanese government.