World Cup 2018: Kenya outrage at MPs' trip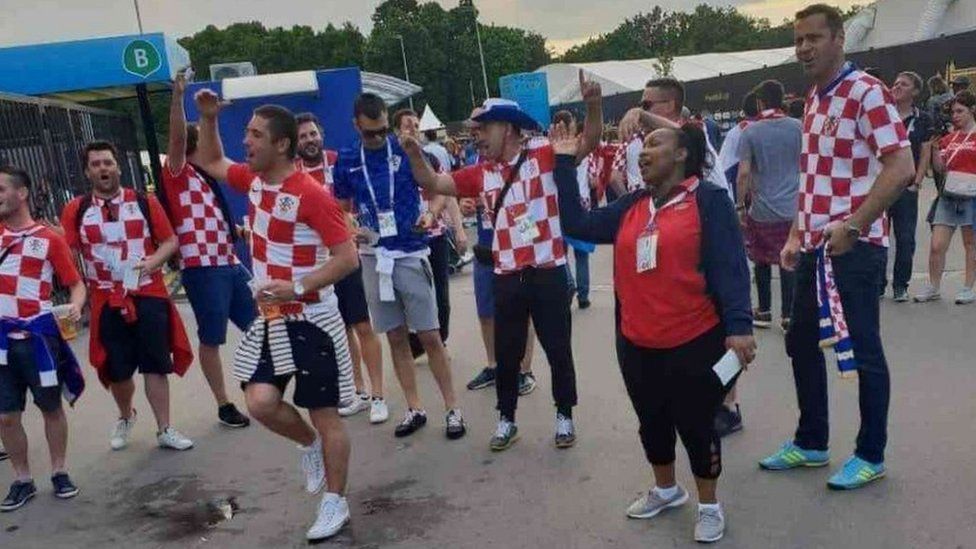 Kenyans have reacted furiously to news that 20 MPs have travelled to watch the World Cup at the taxpayers' expense.
They are watching four games, including the final, in a two-week trip to Russia estimated to be costing hundreds of thousands of US dollars.
The MPs caught the attention of Kenyans when they posted selfies in a stadium.
Sports Minister Rashid Echesa told the BBC he had authorised only six MPs to travel, to help understand how to organise such big events.
Kenya have never qualified for a World Cup final and are currently ranked 112 out of 206 nations by football's world governing body, Fifa.
However, Kenya is one of the world's most successful athletics nations and has submitted a bid to host the 2023 World Athletics Championships.
But many Kenyans thought the trip was a waste of money in a country where the average person lives on $150 (£113) a month.
It is only in kenya where the taxpayers money is used to facilitate 20 MPS in world cup fiesta-Russia. Unfortunately they cannot even attend a local football function to embrace local talent but are busy flaunting their pictures in Russia. Somehow we have been misled #Big4Inaweza

— chogo erastus (@ChogoErastus) July 12, 2018
https://t.co/b3q9vKA8oD

Kenya is drowning in debt and yet we can send "officials" to the World Cup. Even England didn't send any. Somebody save us! 😳

— Odoyo Owidi (@owidi5) July 12, 2018
One of those who travelled, Senator Millicent Omanga, certainly seemed to be enjoying herself.
Speaker of Parliament Justin Muturi said that the MPs sat on either the sports and labour committees, and were sent along with some members of the parliamentary football team, Bunge FC.
Senate Clerk Jeremiah Nyegenye, who is head of the Parliamentary Service Commission that determines the responsibilities and remuneration of legislators, defended the trip.
"It is their responsibility to understand sports, how to host such international tournaments," the Star newspaper quotes him as saying. "This is not a holiday and it is too simplistic to look at it as a joyrider mission."
A parliamentary source has told the BBC that members of parliament usually travel first class.
When travelling on official business, Kenyan MPs are entitled to daily allowances for expenses of around $1,000.
Kenyan MPs are believed to be among the best paid in the world but last year they got a 15% pay cut to $6,100 a month.
They also lost some of their generous allowances, such as for mileage and attending parliament.