Endangered black rhinos die in Kenya reserve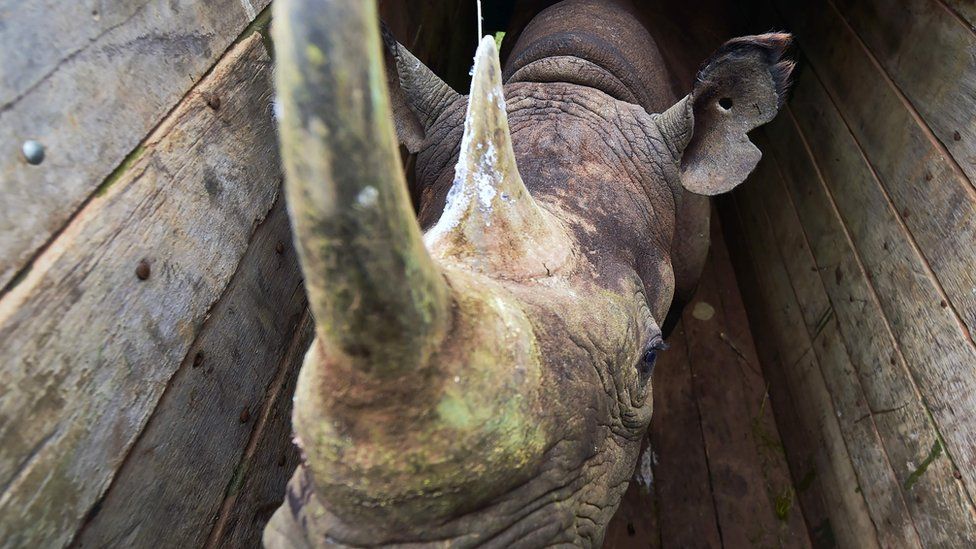 Eight endangered black rhinos have died while being transported to a new wildlife reserve in Kenya.
They died after drinking water with high concentrations of salt, the Kenyan government says.
The animals were among 14 black rhinos being transported from Nairobi National Park to the country's biggest national park, Tsavo East.
Estimates suggest there are fewer than 5,500 black rhinos in the world, all of them in Africa and some 750 in Kenya.
Kenya Wildlife Service vets believe the more the animals drank, the thirstier they became, which quickly lead to salt poisoning, although an independent investigation has been launched to confirm the cause of death.
Kenyan conservationist Paula Kahumbu told AFP news agency: "Something must have gone wrong, and we want to know what it is."
The relocation of endangered animals involves sedating them for the journey and reviving them on arrival. The process is known as translocation.
The WWF conservation agency, which runs the programme with the Kenya Wildlife Service (KWS), described the process as "extremely challenging" in a statement released to Kenya's Daily Nation newspaper.
"Black rhinos are under enormous threat, so efforts to try and better protect them, such as translocation, are crucial for future generations," i said.
Rhinos are often moved when their populations outgrow their surroundings. In the case of critically endangered black rhinos, the moves can establish new breeding habitats to boost numbers.
You may also be interested in: