Ethiopian reunited with long-lost daughters in Eritrea after 16 years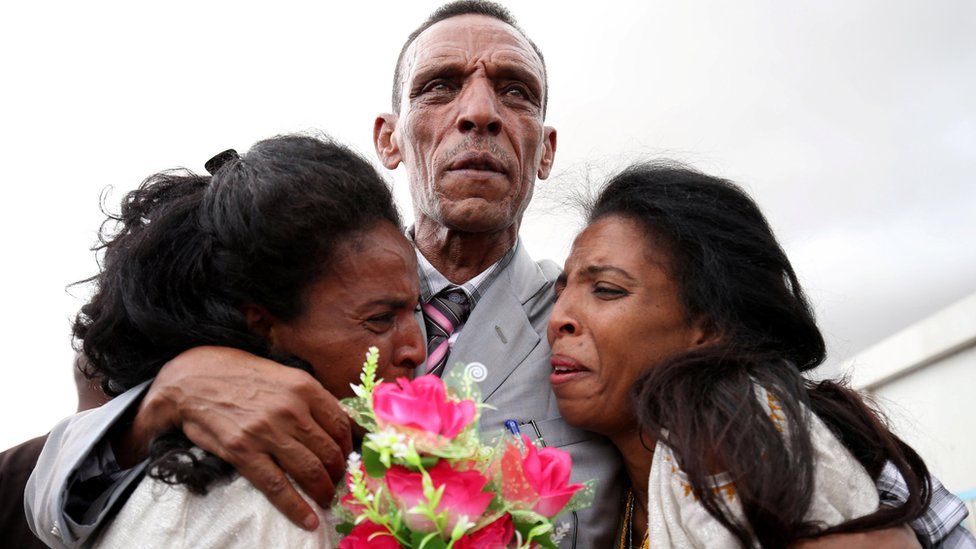 Ethiopian journalist Addisalem Hadigu has met his daughters Asmera and Danait in Eritrea for the first time in 16 years.
He was among many families kept apart by decades of war and conflict between neighbours Ethiopia and Eritrea.
They were reunited in scenes of tearful joy and relief after the first commercial flight between the two nations in 20 years landed in Eritrea's capital, Asmara.
"My suffering has ended - I have met my daughters and kissed them, and poured my tears," Addisalem told local media.
His reunion with his daughters, who are not twins as reported earlier, filled him with "so much peace and hope", he added.
"I was like a dead man walking. My life was without meaning, without taste. The border was closed to Ethiopians, so I could not go after her. I felt like I had died," Addisalem said.
"I used to wish my family had moved to any other country - because it would have been easier to visit them there than to cross the border into Eritrea."
Ethiopian Airlines called the flight to Eritrea - the first since the 1998-2000 border war - the "bird of peace".
Air and road travel is now opening up between the two nations, after their leaders this month declared the "state of war" over and agreed to restore diplomatic ties.
Photos of families and loved ones reuniting after years of being apart are being shared widely on social media - including by many in the diaspora.
Skip twitter post by Milena Bereket
Thank you for capturing these priceless moments, G!! This's what #PEACE feels like. This's what the ppl of both countries were denied for too long. If anyone should be held accountable, it's those that wanted short-term gains at our expense, & those that supported them since 98!! pic.twitter.com/uaJ8mDSo9S

— Milena Bereket (@tekerebanelim) July 18, 2018
The BBC is not responsible for the content of external sites.
End of twitter post by Milena Bereket
Passengers on the historic 60-minute flight sang and danced in the aisles and flight attendants handed out roses and served champagne.
More than 450 passengers were on board the aircraft, Ethiopia's privately owned Addis Standard news site reported.
More on Ethiopia-Eritrea thaw:
Demand was so high that a second flight left within 15 minutes, according to AFP news agency.
Images: AFP, Reuters and Addisalem Hadigu