Black Panther spin-off author Nnedi Okorafor's African inspiration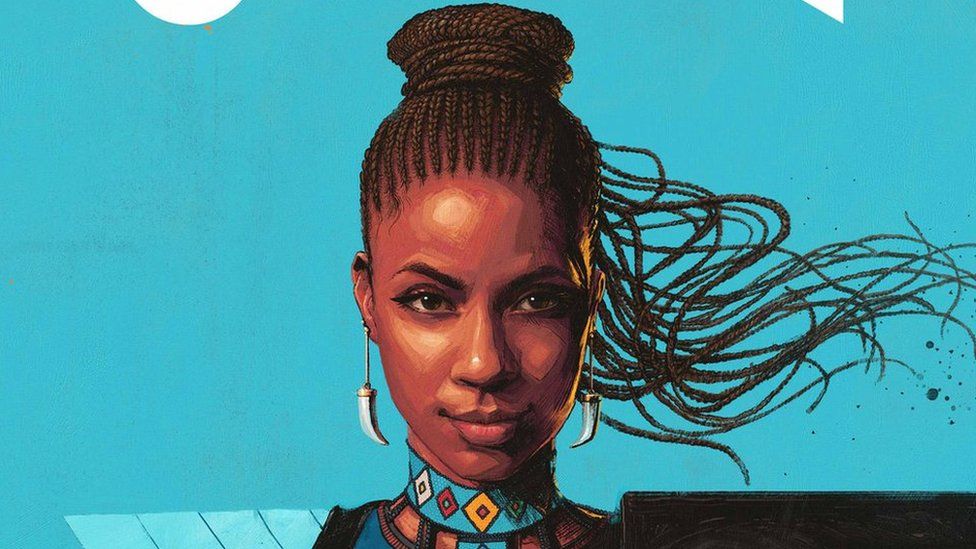 US-based science fiction and fantasy writer Nnedi Okorafor is in high demand. She is the award-winning author of 12 books, the brains behind a forthcoming Black Panther spin-off series, and one of her stories is soon to be adapted for television by the creator of Game of Thrones.
But her rise to the top was not easy. Okorafor's family was among the first black families to move into a white neighbourhood in Chicago's suburbs during the 1980s, and her school classmates and teachers would go out of their way to make it "clear that to be black was to be less than," the 44-year-old says.
It was her frequent trips to Nigeria, where her parents come from, that grounded her.
"And in that way, I also experienced an entire country of people who looked like me, where racism didn't exist, where I had family," she says.
Those trips developed a love for "my own people's stories, mythologies, cosmologies", which she began incorporating into her works of fiction.
Okorafor has used that perspective to become one of the most innovative science fiction and fantasy writers of her generation.
She crafts speculative fiction, both for young people and adults, that goes beyond the Eurocentric worldview which dominates the field - just think of Harry Potter, Star Wars and Lord of the Rings.
Okorafor's stories have African settings, African characters, and use African myths and mythology. They explore technology, mysticism, immigration, corruption, genocide and gender inequality.
Okorafor says she has personal experience of "whitewashing". An early cover design for her novel Shadow Speaker showed a white girl, she says, despite the book's Nigerian heroine.
The publisher changed the cover after she complained.
In her award-winning novella Binti, Okorafor explores the immigrant perspective with her protagonist - a young woman from Namibia's Himba people, who defies her family and accepts a slot at a prestigious intergalactic academy.
"I'm very interested in the stories of complex flawed African women and girls because I feel like their stories need to be told and in those stories, they need to win," she says.
A shelf full of awards - including the Wole Soyinka Prize for African Literature and the prestigious Hugo and Nebula awards - is testament to her success.
Okorafor's talents have now caught the eye of television producers. Her 2010 novel Who Fears Death, based in a post-apocalyptical Sudan, is being adapted for HBO and Game of Thrones author George R.R. Martin will serve as co-executive producer.
In July, Okorafor hit the headlines again when it was announced that she would be writing a spin-off from the Black Panther comic series focusing on Shuri, the technology genius and sister to the titular character, T'Challa.
"Shuri is incredible, she is a princess but she is also a really dynamic character and we need to see what this smart African girl do beyond her brother," Okorafor told BBC Focus on Africa radio.
This is not her first stint with Marvel. She contributed to a bi-weekly series called Black Panther: Long Live the King, and wrote Wakanda Forever.
She also counts the director of the LGBT love story Rafiki, which was the first Kenyan film selected by Cannes only to be later banned in Kenya, as a close writing partner.
"I can't give details, but Wanuri [Kahiu] and I have a slate of projects we are working on together," she says.
Okorafor's journey as a writer began at 19. That year, she was paralysed from the waist down after an operation to correct scoliosis.
Distraught as she realised her budding athletic career would be cut short, Okorafor began writing short stories to occupy her time.
When she recovered, she took a creative-writing class at university.
Her rise in the world of speculative fiction was "gradual", she says, mainly because no one knew how to place her work.
By the time she published her debut novel Zahrah the Windseeker in 2005, reviewers struggled to understand it, she says.
"It was young adult science fiction with Nigerian mysticism, blended with fantasy and written by a Nigerian American - I was confusing and many didn't know how to read me.
"But over the years, the more I wrote, the more known I became. I was slowly somewhat understood, and thus enjoyed."
Her style has since been described as a Afrofuturist, a genre she has a contentious relationship with.
In a 2017 interview with OkayAfrica, Okorafor explained that "Afrofuturism is a label that is steeped in the United States" and usually involves "African-American visions of the future... like Sun Ra and P-Funk, and later on like Outkast, with their ATLiens album".
Now she is resigned. "At this point, I'm called an Afrofuturist whether I like it or not," she adds.
"Saying I'm not will only cause more confusion. So I embrace the term, begrudgingly, and my conversation with the issue is dynamic. It changes with time."
"My literary roots aren't here in the United States, they are in Nigeria," Okorafor explains.
"That's where my inspiration to write science fiction started. However, the label continued to be slapped on me. With the announcement of Shuri, I've seen many news sources call me an Afrofuturist writer - right in the headline.
"I hate bickering over categories," she adds.
"The only reason I do [so] is because I feel that these categories and labels can cause people to misread my work and give people false expectations."
Labels aside, Okorafor believes science fiction will play an invaluable role in Africa.
"African science fiction is one arm of the many-armed creature that will solve problems on the continent," she says of the genre that has helped inspire countless inventions, including powered suits through to video phones.
"[It] pushes imagination, it focuses on possibility. These are essential tools to finding solutions to problems that may seem impossible to solve."