Kenya slum demolished to make way for road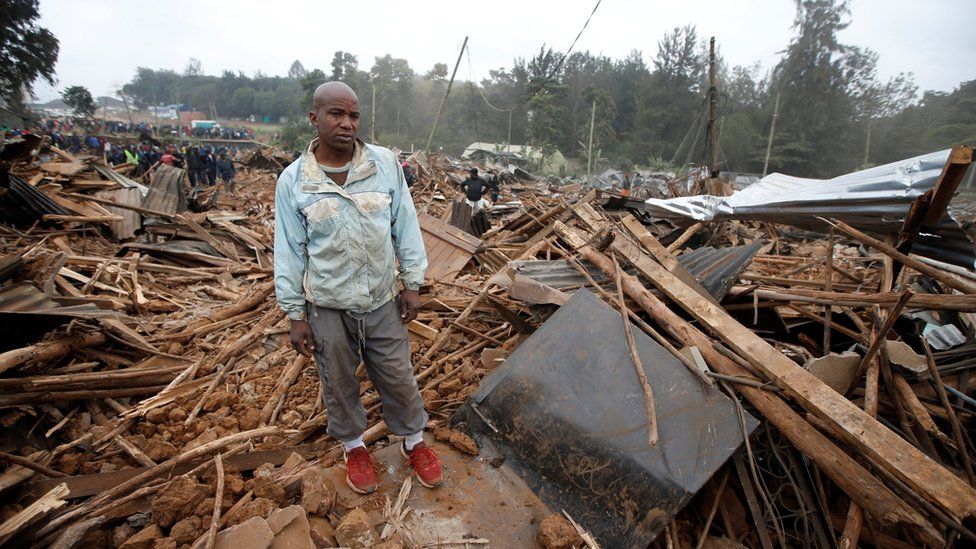 The homes of about 30,000 people have been demolished in a Kenyan slum to make way for a new $20m (£15m) dual carriage way in the capital Nairobi.
The residents, living in part of the city's largest slum, Kibera, were given just two weeks notice to leave.
Bulldozers moved in at dawn as people watched helplessly from the sidelines.
Amnesty International has condemned the evictions, but Kenyan officials said the people living in the area were there illegally.
Residents fought the road in court, filing two legal challenges, but lost when a judge ruled the dual carriageway - which authorities say will ease the traffic in the west of the city - was in the public interest last year.
On Monday, some of the residents of Kibera informal settlement sat beside their belongings and cried out in anguish.
"We were raised here, we went to school here and we got married here. Now we don't know where to go," Jacqueline Anzemo, a 30-year-old mother-of three who has lived in Kibera for 16 years, told the Thomson Reuters Foundation.
Arthur Shakwira was also watching as the area he has called home for more than two decades, was flattened.
"I've taken my belongings to a neighbour. My wife and kids have moved to my brother's place to stay there for the time being. I don't know where to start from," he told the news agency.
"We've not refused for the road to pass but they need to consider our wellbeing."
According to local newspaper The Daily Nation, two primary schools and a children's home were among the buildings demolished.
Amnesty International has described the evictions as tragic and illegal, saying the sight of young children carrying away their families' belongings was heart-breaking.
The human rights group's executive director for Kenya Irũngũ Houghton added the demolitions "betray" a deal made to agree a resettlement plan before evicting the residents.
The Kenya Urban Roads Authority (Kura), a government agency, refused to comment on Mr Houghton's criticism directly, referring Thomson Reuters to an earlier statement saying it was working with outside groups to resettle residents.